The good news was that with the lack of weekday corporate charters this Covid summer, Lutine was available for a 4-day weekend charter. The bad news was that Storm Alex was forecast for that weekend.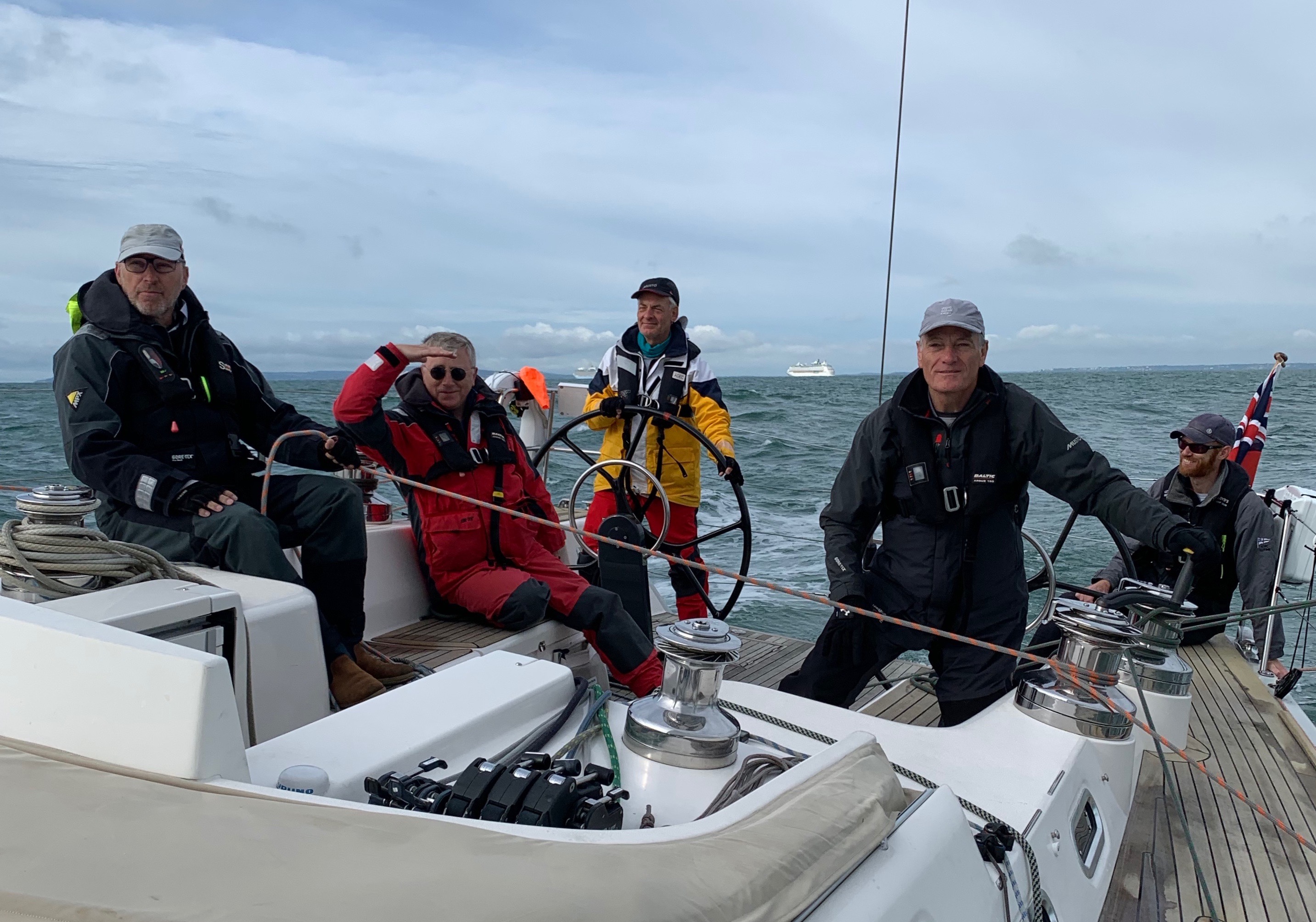 Due to Covid-19 restrictions, we were limited to a crew of 6. This included the Commodore, Vice Commodore, Rear Commodore and a Past Commodore – Howard, Jeremy, Kevin, Richard, Mark and Paul plus our superb Lutine skipper James.
The storm was due to hit hard early on Friday so we delayed our arrival until midday, by which time the winds had subsided and the rain abated, After a briefing from James, we set off west along the Solent with wind and tide in our favour. Against all predictions, the sun came out and the wind dropped requiring a touch of engine to get past the Needles, where we saw a pod of dolphins in the calm seas.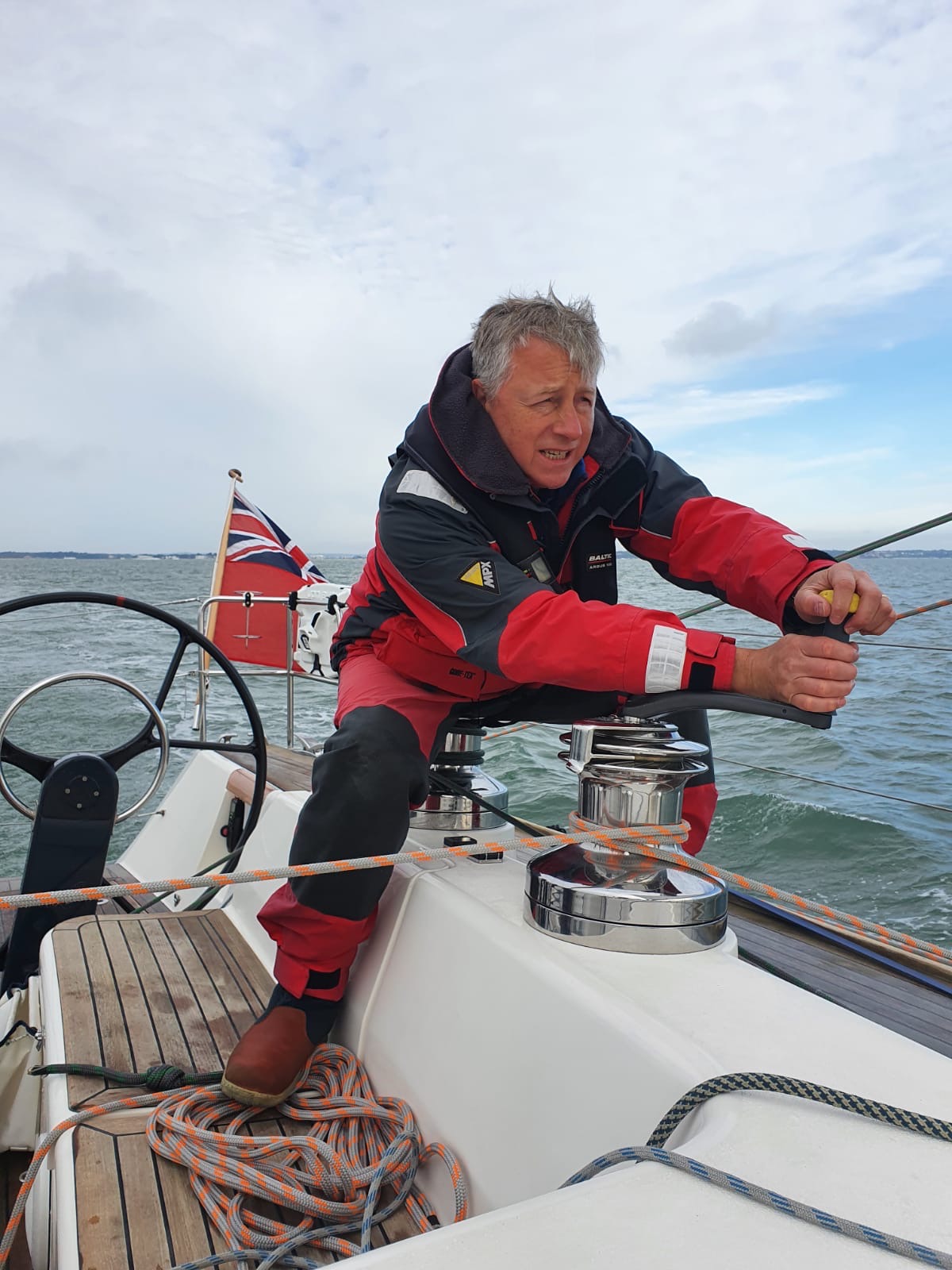 The 4-day charter meant we could plan a passage outside the Solent and we enjoyed a fast sail to Poole where Richard joined us as he could only get away for the weekend. After G&Ts onboard, we walked out to find dinner. Not that easy! Many restaurants were closed, even on a Friday night, and others wouldn't take a group of 7, even split into two tables. The only room at the inn was Wetherspoons for Fish Friday.
Another front was due to pass through overnight but was not as severe as expected. By Saturday morning the wind was a reasonable Force 5. After Kevin's mega Full English breakfast we set off for Weymouth to arrive before the strong winds forecast for 16:00.
It did however turn out to be the wettest day in the UK since records began in 1891!
We had to avoid the Lulworth Firing Range but otherwise a glorious sail with, amazingly, wind and tide in our favour again.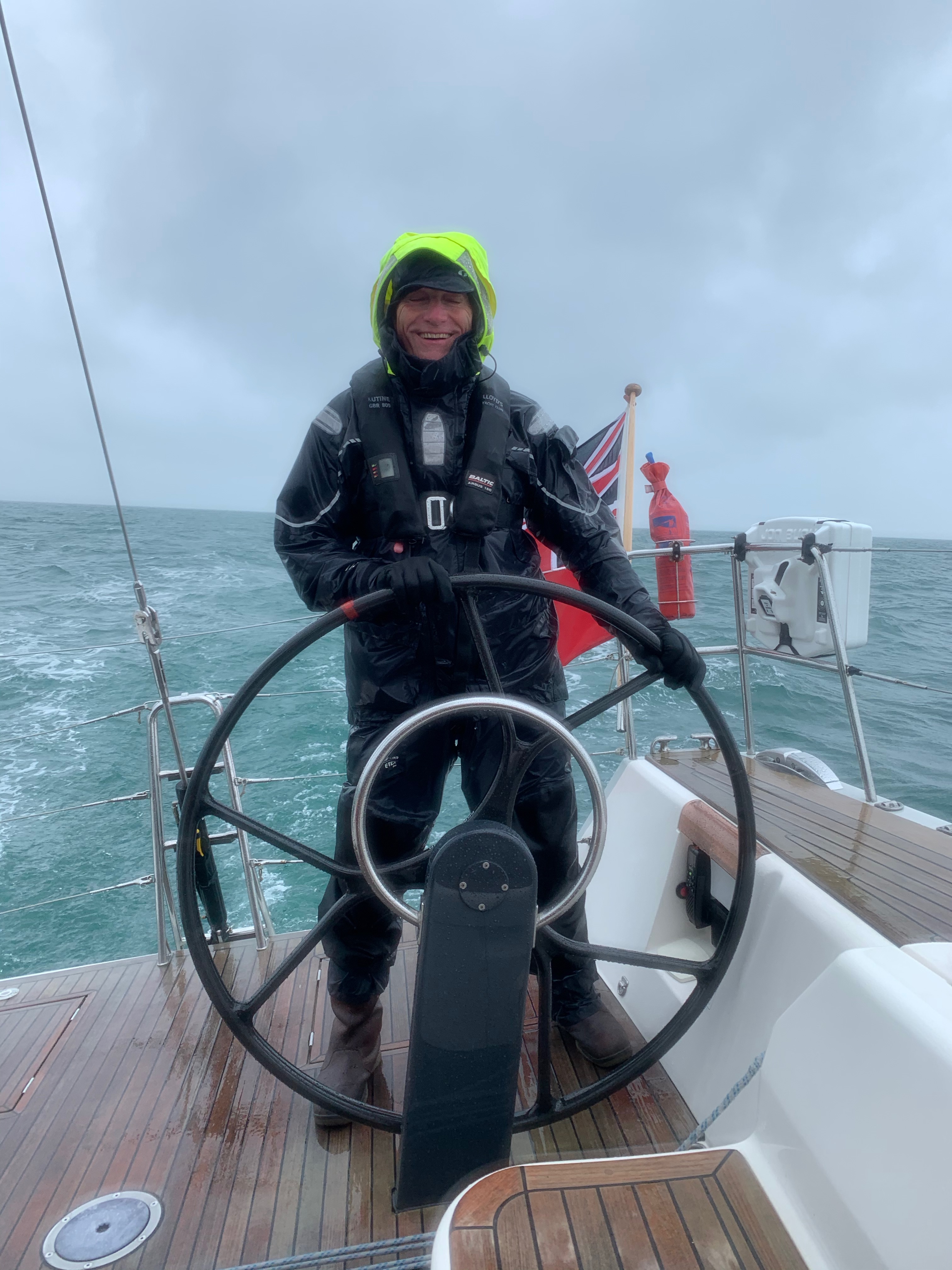 Lutine was the only yacht on Weymouth Town Quay, which in previous years was usually rafted two or three deep on a weekend. After the debacle the previous night we wisely decided to get a Chinese takeaway delivered to the yacht and dine in the civilised surroundings of Lutine's saloon.
It was an early start on Sunday and we left Weymouth at 07:30. As predicted the winds had conveniently turned to the more usual westerlies, consistently 30-35 knots, so we gybed out through the half dozen abandoned cruise liners into a large following sea. Shame about the rain again. Still, we made excellent time and arrived back in Poole early enough to enjoy Jeremy's delayed brunch which consisted of smashed avocado on toast with two poached eggs.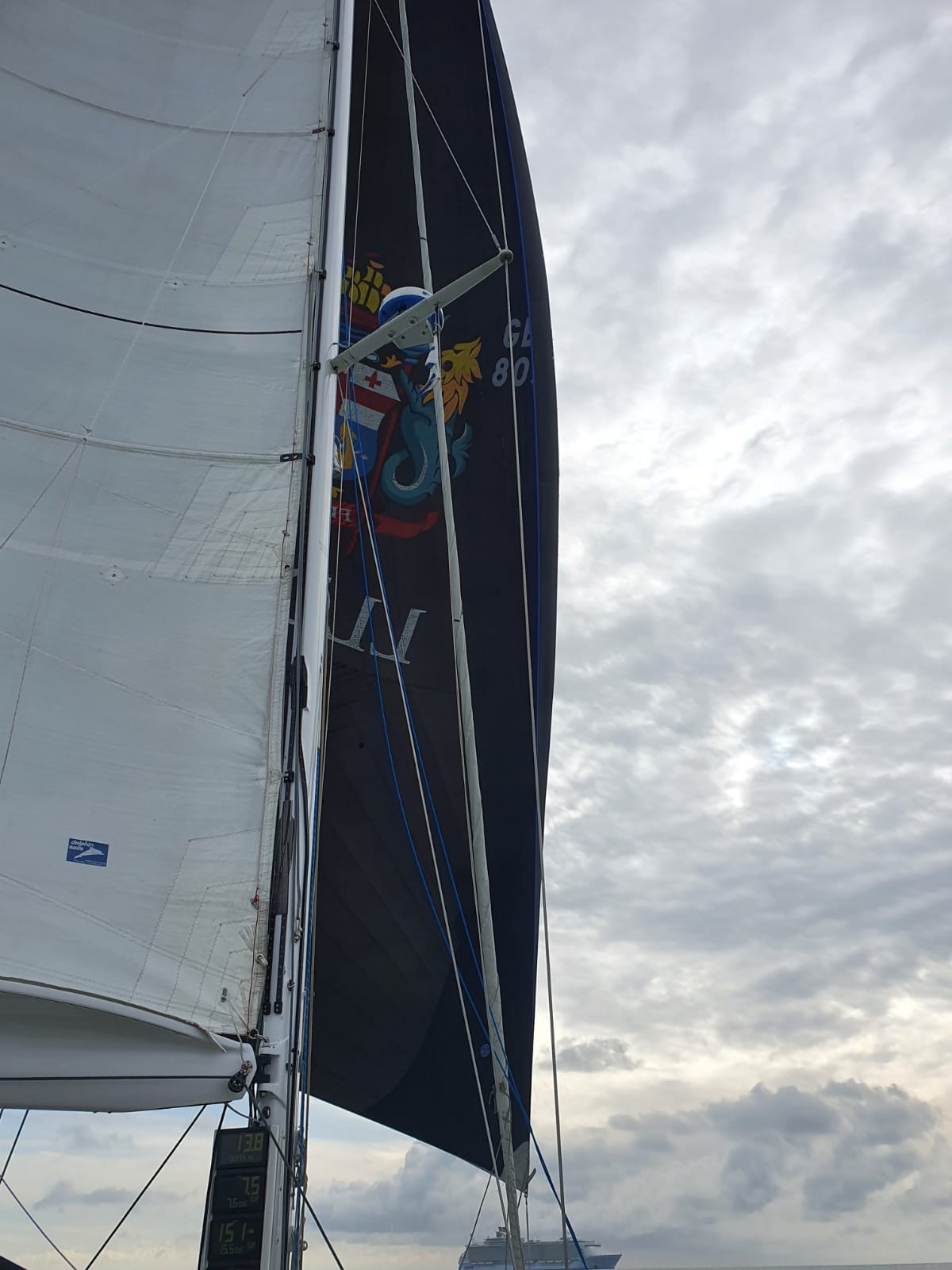 Save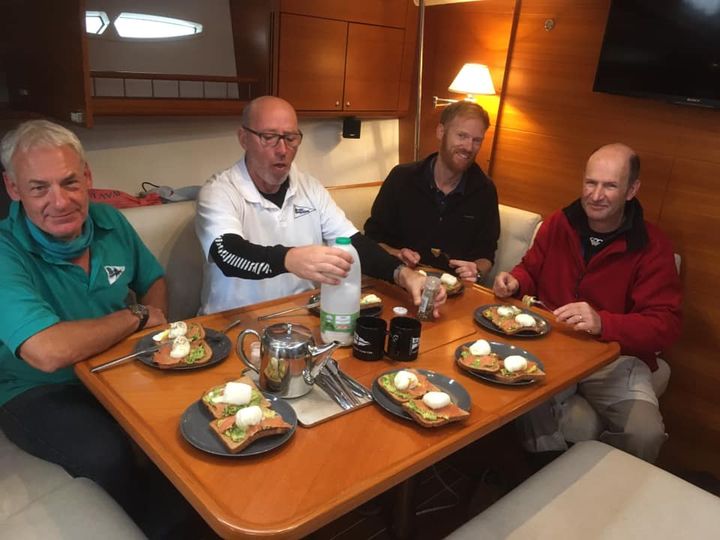 On Monday with the wind was again behind us, but lighter than Sunday, up went the asymmetric spinnaker which stayed up all the way to the approaches to Portsmouth. Good practice for everyone, skilfully guided by skipper James.
After a thorough post-charter clean, we left Lutine at Gosport on Monday afternoon – a thoroughly enjoyable sailing weekend with a great crew, despite the weather.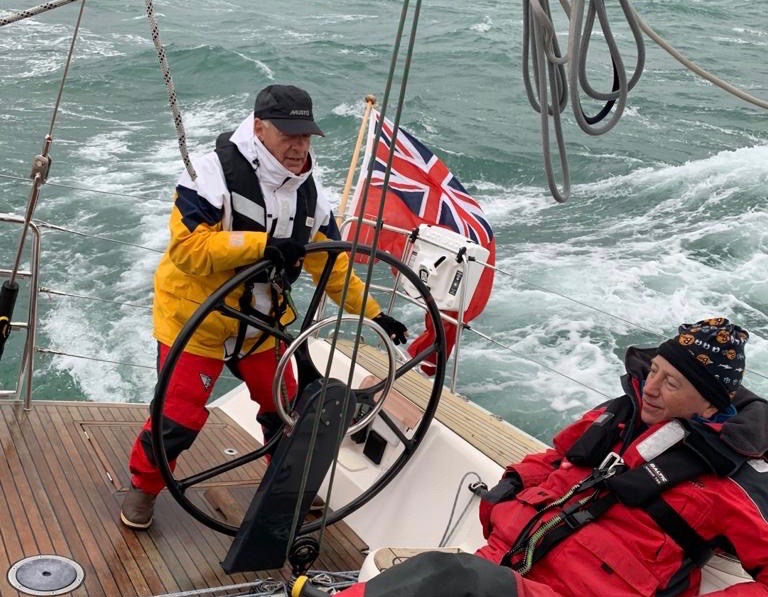 Howard Richardson
Commodore
October 2020