The Oxted Offshore party of 14 arrived in Skiathos this morning and were able to sign off the 3 yachts and head for the supermarket before setting sail for Skopolos where we arrived around 19:00 in Loutraki.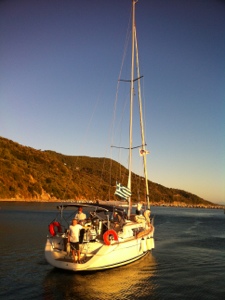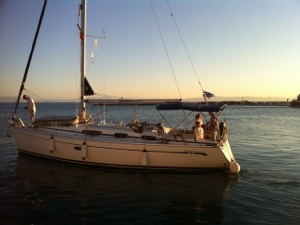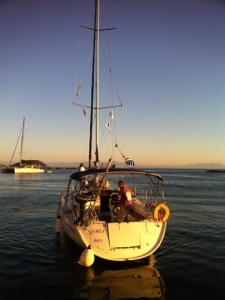 Sunday 2nd September
Left Loutraki this morning heading for Kastri where the church featured in the film Mama Mia can be found.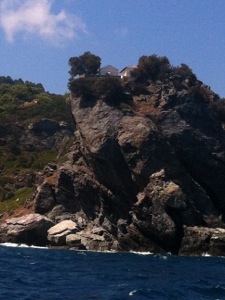 The Meltemi wind was blowing F4 from the NE so we struggled to find a protected anchorage do continued on from Kastri to a small bay called Gallistri where anchored, swam to the beach and had lunch before setting off for Skopolos town.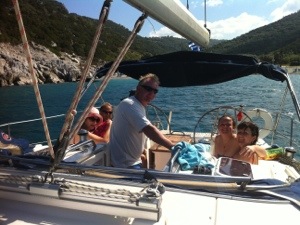 Arrived in Skopolos town around 5 moored stern to the harbour wall.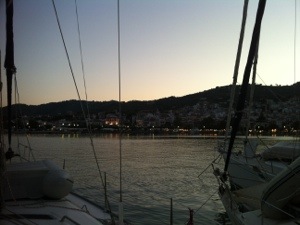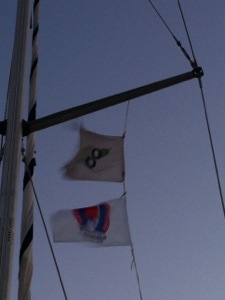 Monday September 3rd
Left Skopols this morning with the Meltemi wind blowing F5 gusting F6, bit of a lumpy exit but once we got past Alonnisos conditions calmed down and we stopped for lunch in a bay on Nisos Periistera before heading for Steni Vala on Alonnisos.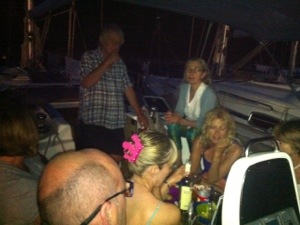 At Steni Vala we spent time swim miming before meeting up on La Jolla for drinks before dinner.
Tuesday 4th September
The Oxted Offshore flotilla left Steni Vala this morning heading north for Panayia after stopping for lunch in a beautiful bay on the island of Peristera.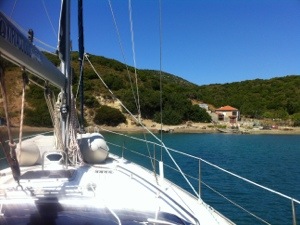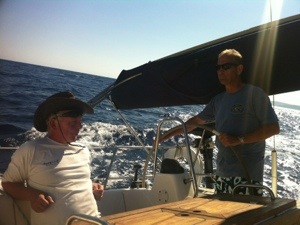 Arrived Nisos Kira Panayia at a beautiful lagoon accessed via a narrow channel on the north of the island. The flotilla dropped anchor rafted up together with lines out to the rocky shore. Our troop of 14 headed for the shore with pots of pasta and bar-b-que for an evening under the stars. All went according to plan with the exception of Danai's inflatable which suffered a puncture against the rocky shore in the dark.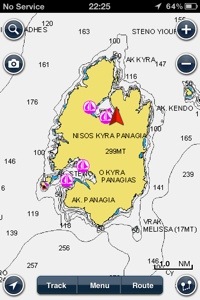 Wednesday 5th September
Departed Panayia this morning heading south back towards Skopolos, meeting up at a sheltered bay on the island of Nisos Peristera for lunch, wind was F1/F2 today so a fair bit of motoring was required.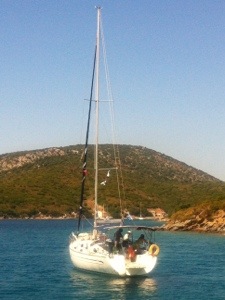 Before lunch Howard and Kevin had a go at repairing the dinghy with a puncture repair kit.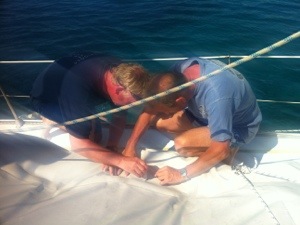 Once lunch was over and swimming and snorkelling over we set off for Agnondas on Skopolos.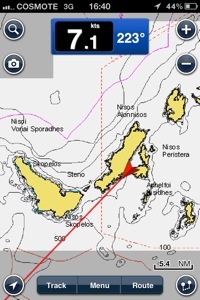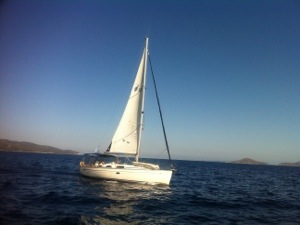 Dinner for 16 at a restaurant in Agnondas.
Thursday 6th September
Left Agnondas this morning, but absolutely zero wind so decision was made to head round the corner to the beautiful bay of Panormous for swimming, snorkelling and sun bathing.
Nicky, Sharon and Sue jumped in a taxi to explore the idyllic church that featured in the Mamma Mia movie. Mark dropped the girls off in the dinghy returning back to the anchorage just in time to assist Barry who had just arrived in Celeste.
The ladies arrived back a few hours later shouting from the small pier for a lift back to the boat. Richard was on his way in the dinghy only to be jilted by the girls who had attracted the attention of a local Greek boatman "Dimitri Adonis Stefano" in tight shorts, ponytail and "all over" tan and 50 horsepower, who impressed by their efforts insisted on giving them a lift back to the yacht.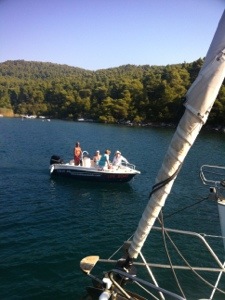 Richard looking sheepish followed slowly behind in his empty 2 horsepower dingy.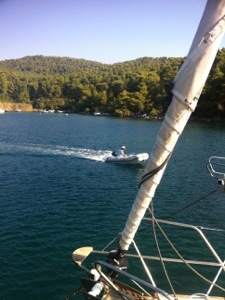 Friday 7th September
All 3 boats set off from Panormous on Skopolos this morning waking up to 20-30 knots of wind ready to head back to Skiathos. Panormous was very sheltered so it wasn't really felt until we got out onto the sea. Danai and La Jolla headed for the beautiful sandy beach on Koukounaries after a fast sail in the breezy conditions. Anchored off Koukounaries beach we spent the afternoon swimming and sunbathing before setting off back to Skiathos town , the final leg of our 129 mile cruise around the Sporades.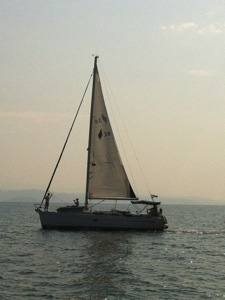 ---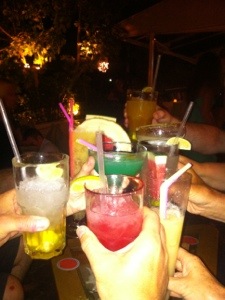 ---
For more photographs visit www.oxtedoffshore.com/skiathos-2012/