by Fran Taylor on Spirit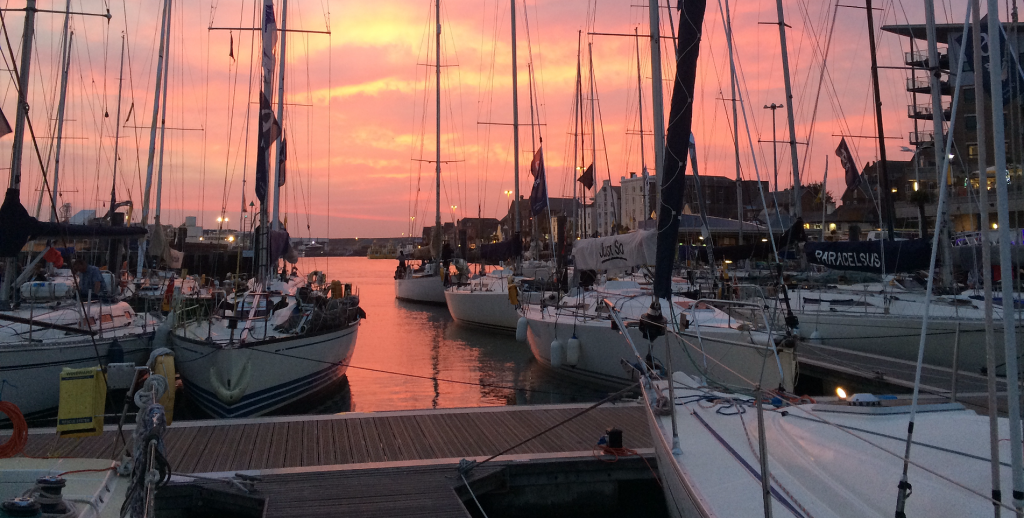 Four yachts and 17 club members joined the Oxted Offshore Spring Rally to Poole over the weekend of Saturday 22 and Sunday 23 April. The weather was kind with plenty of sunshine and no rain, but fickle winds of just F2 or F3 set the scene for an interesting Rose Bowl Challenge!

The Start Line for the Rose Bowl Challenge at 10:00 BST was a gate between South Bramble Channel Mark Green Can (N50 46.98 W01 17.72) and RORC 30 Special Racing Mark Round Yellow (N50 47.12 W01 17.72) lying on the same longtitude about 260 metres apart.
Gail and Nick galantly set their alarm for 05.00 in order to be at the start line on time, the other three boats coming from Hamble or Cowes at a slightly more civilised hour. The challengers comprised:
'Spirit' – Dehler 39SQ – with JT, Jeremy, Kevin Ludbrook, Fran and four new club members Stuart and Maggie Rainer and Nick and Anna Frazer
'Degree of Latitude' – Oyster 45 – with JR, Mark, Sue and Howard
'Nick Nack' – Dufour 325 – with Nick and Gail
'Tenacious' – Hanse 345 – with Bob and Nick Perry and Lawrence
Happily there was just enough breeze at 10.00 for all the boats to get off the starting block, but differing race tactics quickly emerged. Tenacious looked for better tides and wind on the Island side of the Solent, while Spirit, Degree of Latitude and Nick Nack set a course for Hurst Castle on a fairly steady beam reach. Spirit passed the Castle first, but by the time we reached The Needles the wind was dying and progress across Christchurch Bay slowed to a snail's pace. Within half an hour Degree of Latitude was on our tail and making a steady 7 knots boat speed, whilst Spirit was pottering along at under 4 knots. Over the other shoulder we could see Tenacious, also catching up quickly but taking a more southerly course. Handicap calculations suddenly became rather relevant!
And thus it was for the next two hours, with pockets of wind over an otherwise becalmed water, with all three boats gaining and losing, losing and gaining, occasionally flying and sometimes going nowhere! We all had each other in our sights, and the finish line in view around 4 miles way, when the wind dropped completely for around half an hour.
At that point we looked around for Nick Nack and they were nowhere to be seen. The observation was made that if Nick Nack had actually finished and was on the pontoon in Poole then we were all sitting there for very little purpose other than enjoying the scenery! So a radio call was made and our worst suspicions realised! Nick Nack had taken the northern passage at Hurst Castle and was just half a mile from the finish line – the Outer Channel Green Can Poole Bar marking the entrance to Poole Harbour (N 50 39.32 W 01 55.17). Very soon after that call Gail radioed back to say they had crossed the line and were heading into Poole! Nobody saw that coming!!!
At that exact moment the wind backed and picked up to a respectable 9 knots, enough to carry Spirit over the finish line 30 minutes later, hotly pursued by Degree of Latitude. Tenacious was still further out and missed the wind pocket, and having heard the radio calls decided to put their engine on rather than miss the party in Poole!
Everybody was moored up in Poole Quay Boat Haven by 16.00 ready to applaud Nick and Gail for a fine, tactical race that took everybody by surprise!
The final results were:

Commodore's Cocktails spilled onto the pontoon in the warm evening sunshine and we were delighted when the party was gate-crashed by the crew of a neighbouring Fastnet contender called Gloria. We then headed to The Brewhouse and Kitchen for a truly hearty and tasty dinner with live music and amazingly attentive staff who kept a separate tab for each boat and made settling the bill just about as painless as it could have been! The ales at this micro brewery must have been good because certain club members who might have traditionally strayed into a local night club actually came straight back to the marina and had a fairly early night, muttering something about getting too old for too much night life!
Adverse tides in the Needles Channel before 14.00 on Sunday meant a fairly leisurely departure for all. Spirit was the last to leave and enjoyed a couple of hours under sail before the wind veered from Southerly to South Westerly. It was not enough behind us to take advantage of gull wing so the engine went on and we stayed motor sailing all the way back to Hamble, enjoying the heat in the spring sunshine and the pleasure of being back on the water!
Before, during and after the Rally there were frequent exchanges and ideas about a handicap system for Oxted Offshore Rallies and the Commodore is keen to look at the possibility of developing a simple, fair system that will cover different charter boats too at future events. But on this occasion it was all perfectly and beautifully irrelevant because "Little Nick Nack" played an absolute blinder, staying on a port tack all round the edge of Christchurch Bay…!