Bill and Anne Lewis cast off from Lymington Yacht Haven in their Oyster Heritage "Musyk" in early June to cruise down to the West Country with the main aim of being in Falmouth by the end of the month for various commitments and then heading off to the Isles of Scilly for an extended stay, before deciding where next?

Update on 30 June 2019
We moved on board Musyk in the second week of June as planned. We wanted a suitable wind to move us in the direction of the West Country to arrive in good time for Anne's family gathering in Truro on 29 June. Good weather windows were hard to come by, with plenty of unsettled weather forecast for a prolonged period. So we took the first opportunity to head out of the Solent, departing at 4.50 am on a lovely sunny Sunday morning. We hoped to make Dartmouth by 10 pm, knowing that we would have to motor all the way in the light westerly winds. A clean bottom (Musyk's) and a strong spring tide used to best advantage got us to Dartmouth in record time so we were tied up and enjoying our arrival beer by 6.10 pm. Two minutes later the harbour master arrived to collect his dues – prompt as ever! Interestingly a yacht which left the Solent just ahead of us and took a more inshore route arrived just minutes behind us.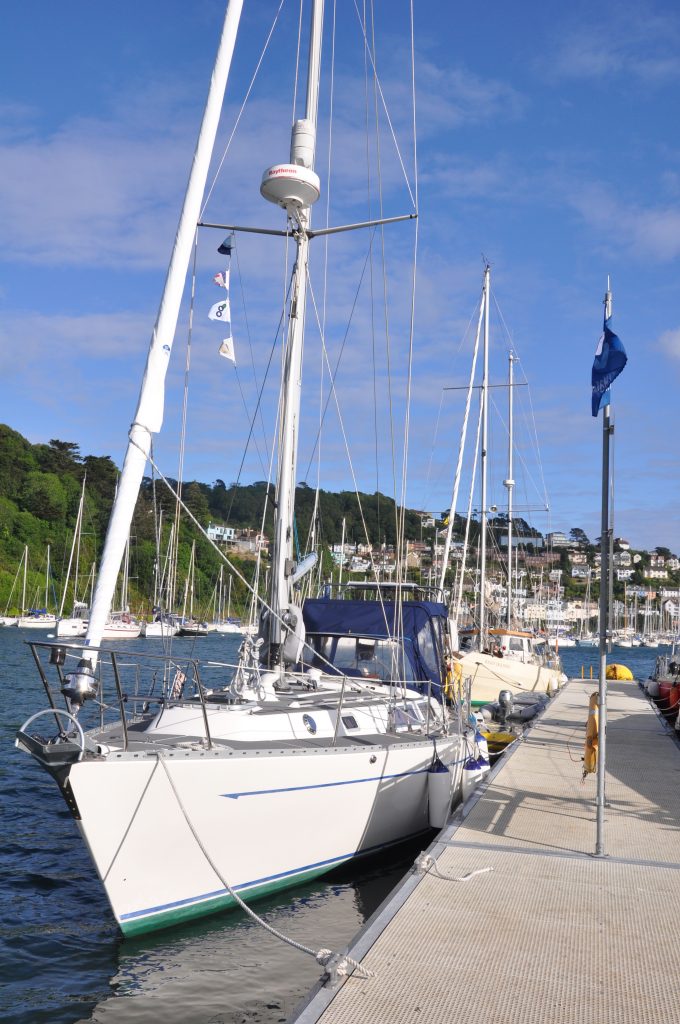 Musyk on the deepwater mid river pontoon near the Dart higher car ferry