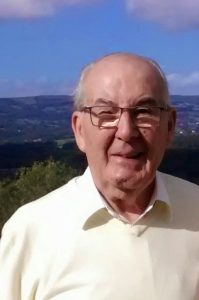 2017 Annual Dinner speaker – Graham Smith
Graham Smith was introduced to Oxted Offshore as an accomplished author and stepfather to the Commodore's wife, Sharon.
After serving in the RAF in the 1950s Graham embarked on a long and varied career in Customs and Excise, beginning in South Wales where he was born. His job took him all over the country to distilleries, breweries and ports, and eventually to Essex where he now lives.

Graham's first book – Something to Declare: 1000 Years of Customs and Excise – was published in 1980 following the introduction of VAT in 1973. He discovered a real love of writing which led to a host of books on Robert Burns, Smuggling and Shipwrecks. In more recent years he had a series of books published on airfields in WW2 and Sharon recalls that Graham and her late Mum, as his editor and photographer, spent many happy times travelling around researching these books.
Following the Oxted Offshore annual dinner on 1 April 2017 we received this lovely message from Graham:
Dear All,
Having arrived safely back home in Essex and thinking about last Saturday evening, I wish to say how very much I enjoyed the evening with you all. Also it was very remiss of me at the end of my talk, not thank all your members present for the very kind and friendly way that they had greeted me throughout the evening. You certainly have a most friendly club. It was also so good to meet those members that Richard and Sharon had spoken of to me. Richard has sent me a copy of the group photograph, so I have a permanent memory of a lovely evening. Also I do like your website.
With my very best wishes to you all.
Graham Smith