Here in lies the story of the intrepid adventures of Oxted Offshore in Turkey September 2017.
Arrived in Gocek, Thursday 14th September 2017 to be informed that our Yacht will not be delivered to Gocek due to some problem, however the charter company has offered to send a minibus to pick us up on Saturday and take us to Bodrum, a trip that takes 3 hours. This upsets our plans somewhat as we were due to meet up with two other OXO yachts; on the upside our new passage plan sailing from Bodrum back to Gocek will be very interesting.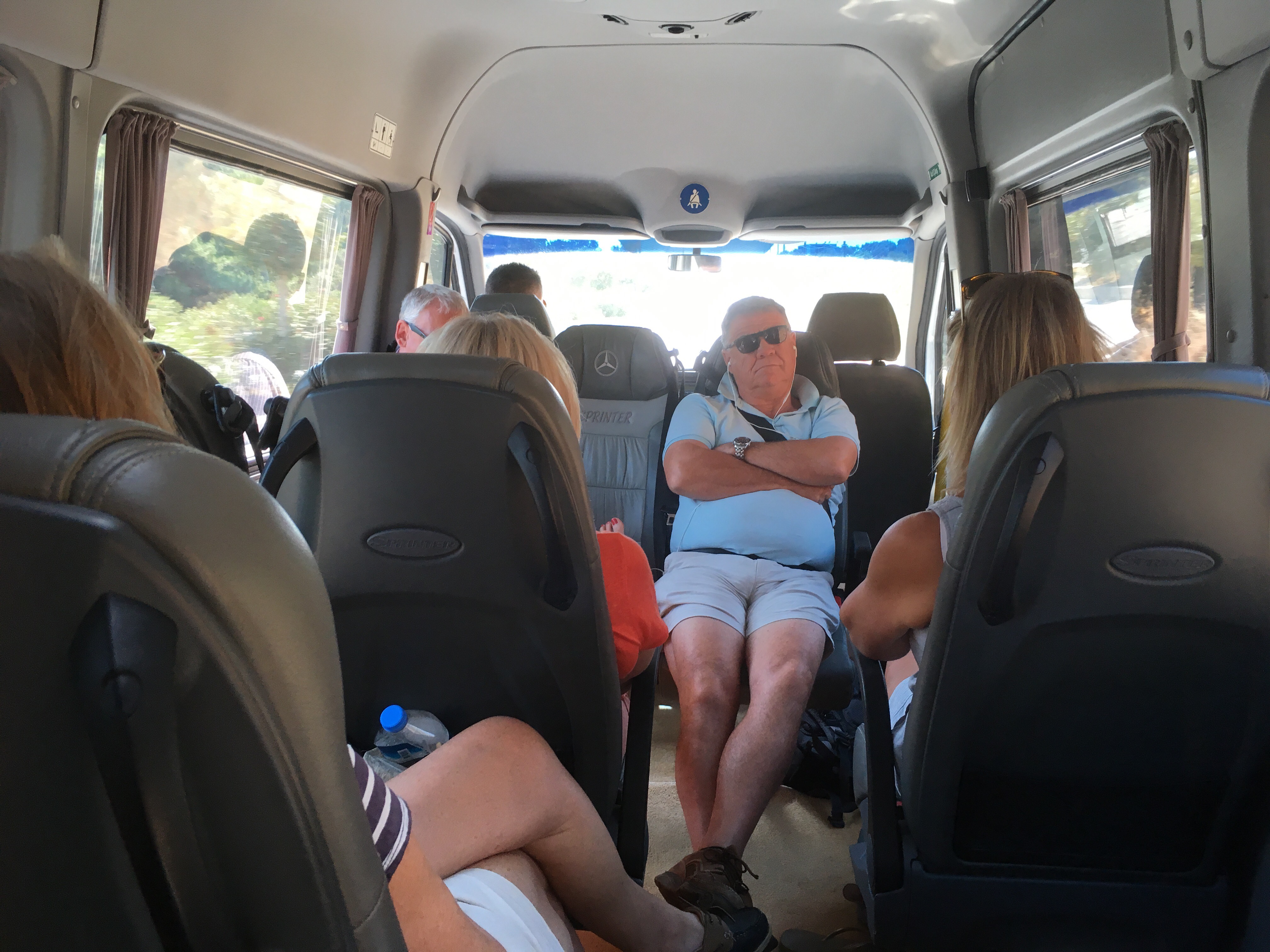 On arrival in Bodrum we discovered the boat actually had an electrical fault with the engine and a marine electrician was busy trying to trace the fault. We decided to decamp to a local bar and then go shopping to give the electrician some space.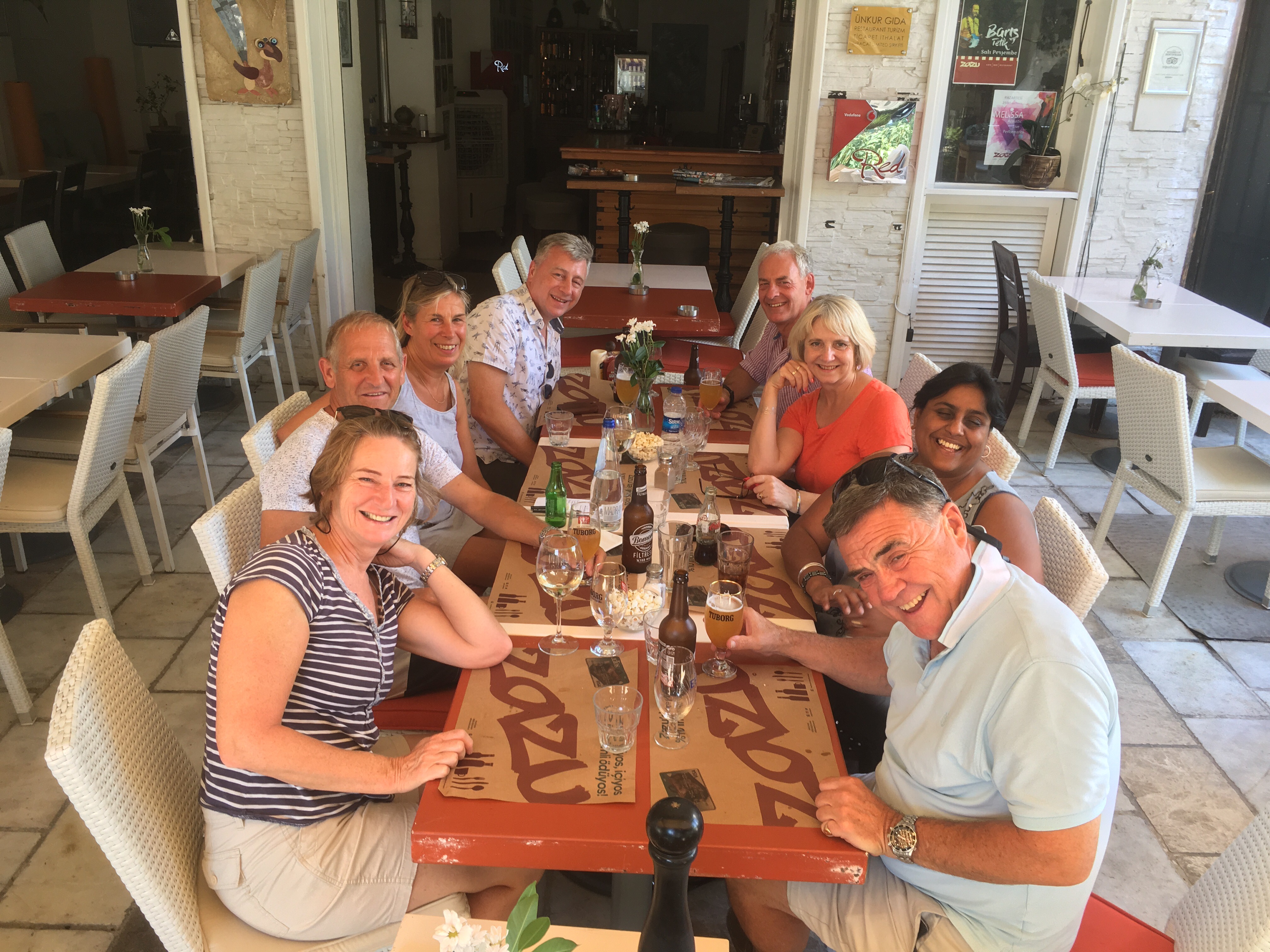 On our return we were pleased to find out the boat was fixed so we split into two groups, the boys checked off the inventory and the girls went off to buy provisions.
Once we were all showered using the excellent marina facilities and a few sundowners we headed to the old town for dinner which was also excellent. The old town is a great place to go shopping and Jasper and Kevin took advantage of the very low prices to avail themselves of a new Rolex each.
Back to the boat only to find a live band had kicked off at the adjacent Yacht Club; a few donned earplugs and went below to sleep through the din whilst the rest stuck it out on the back of the yacht.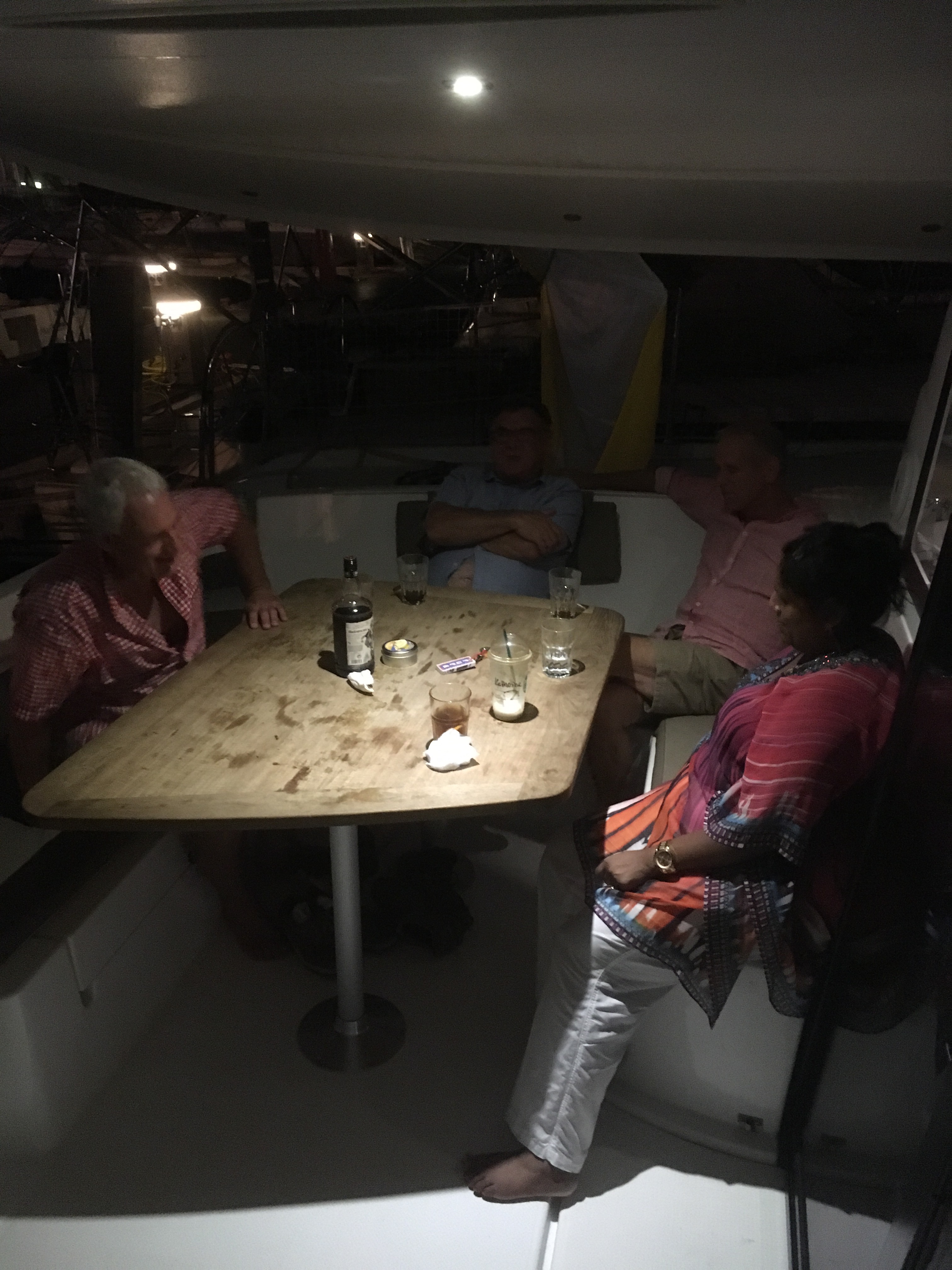 Bodrum is a huge marina which does look impressive in the evening.
Sunday 17th
We motored out of Bodrum heading for the ancient ruins of Knidos which interestingly took us very close to the Greek island of Kos.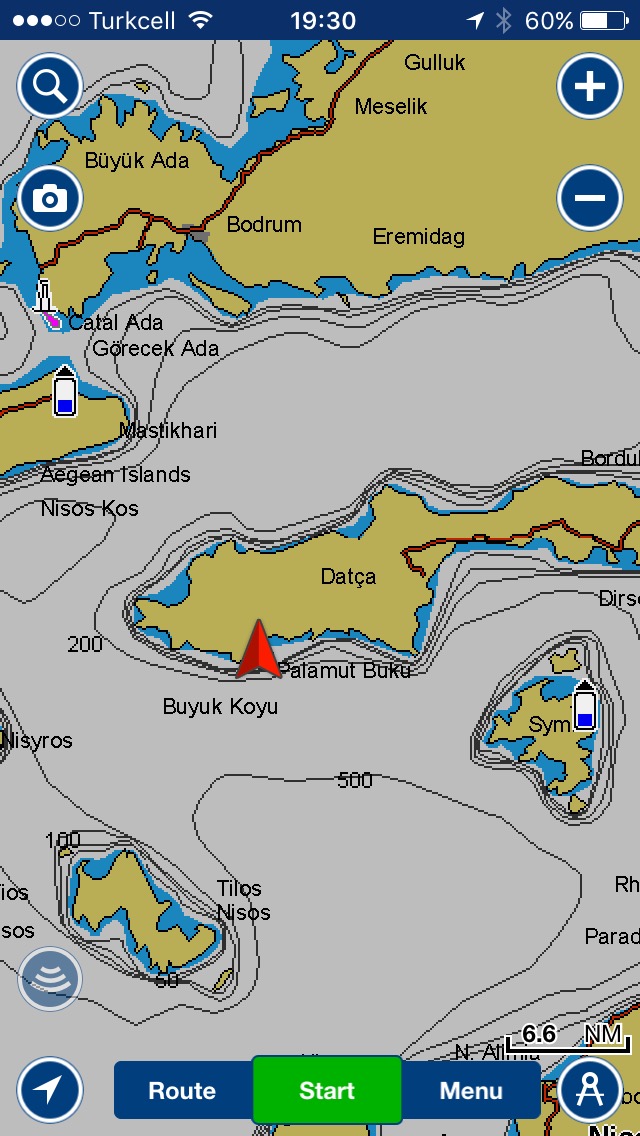 We anchored in Knidos for a swim and lunch followed by a trip ashore to check out the ruins. Dingy was launched from the davits and immediately started filling with water due to a missing bung. A replacement bung was fashioned from an old camera lens cover and dingy was relaunched, this time successfully.
After lunch we left Knidos and motored down the coast to Palamut where we went dropped anchor and went stern to the dock. That night we had dinner in a lovely restaurant adjacent to the beach we nearly abandoned after it became clear the waiter could not understand us at all. Fortunately the owner of the restaurant did and I t all worked out well in the end, he even produced an amazing birthday fruit surprise for Penny's birthday.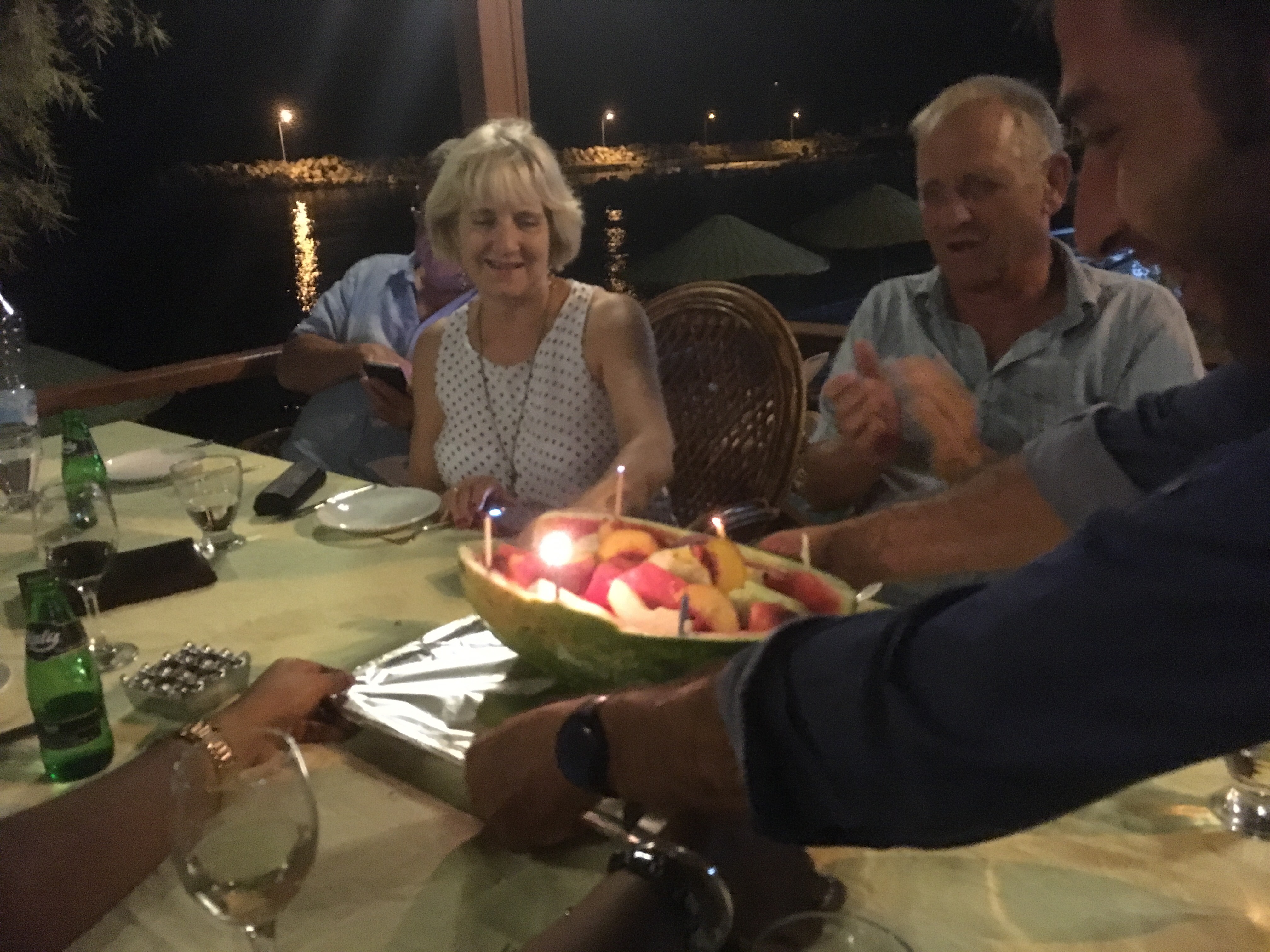 Save
Monday 18th
We motored out of Palamut and with little wind headed off to Dirsek via a small gap through the Greek island of Simi where we anchored for lunch and a swim in the strong current that runs between the islands.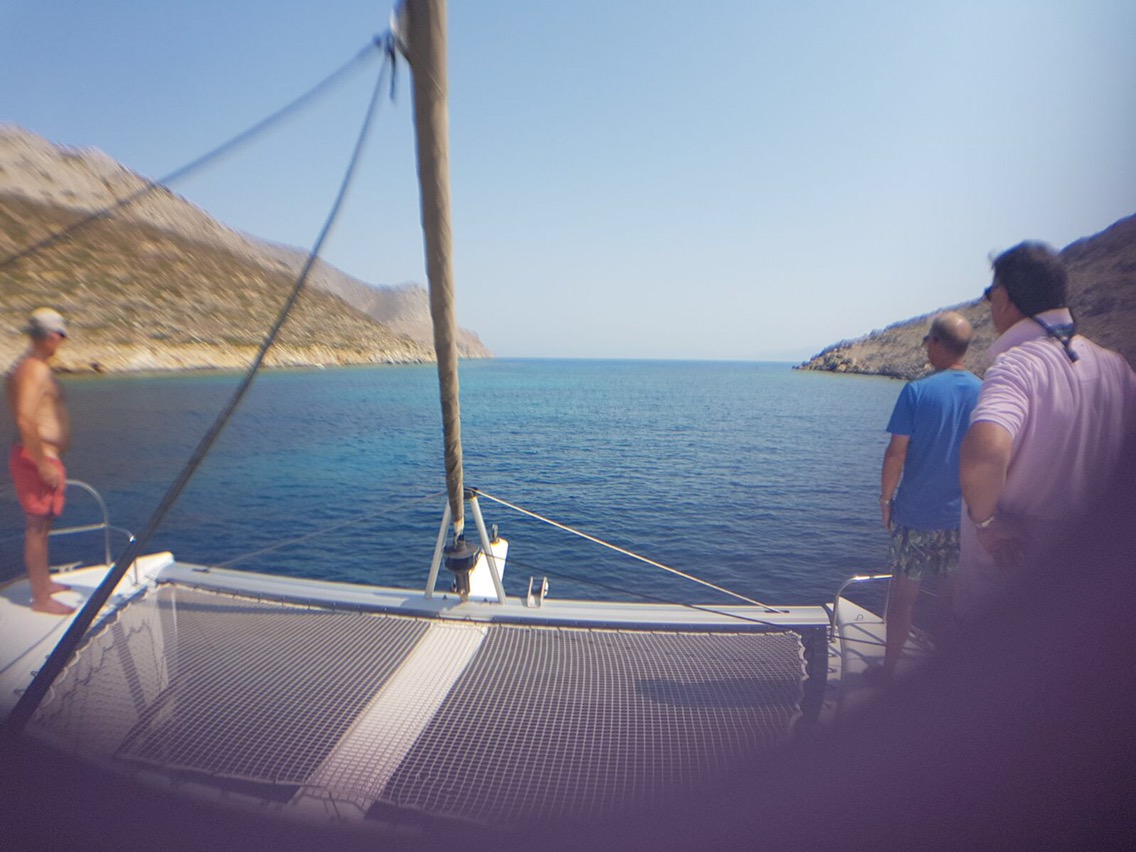 After Lunch we continued our journey to Dirsek where we found a very sheltered bay with a single remote restaurant.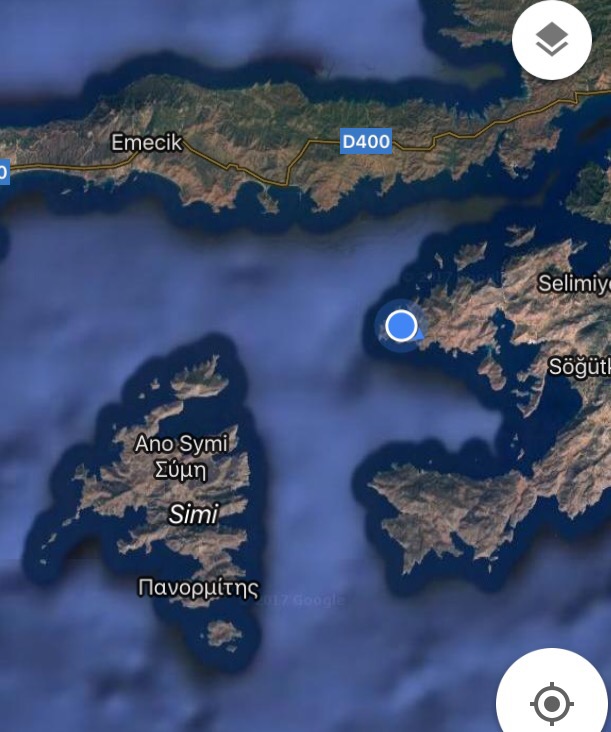 We ate another tasty meal that night, in fact you would struggle to find a bad restaurant in this area.
Tuesday 19th
We woke up to a damp boat as a heavy due descended overnight. The bay had crystal clear water so we went for a swim before enjoying breakfast which included toasted yesterday bread.
No wind today, so more motoring was required with a Eastery heading towards Gocek, not much to report as the sea was like a mill pond although we did see flying fish on occasion skittering across the sea.
For lunch we popped into Bozukali and we're warmly greeted by a restaurant owner keen for us to take a mooring ball and warning us not to anchor due to the poor holding. With a promise of Ice Cream we took up his free offer and after lunch and a swim five of us swam over to the restaurant for refreshment. Promises of ice cream however turned out to be false and he was very keen for us to spend the evening on his mooring even telling stories of a yachting event filling up the bay at Ciftlik where we were heading next. Ignoring his advice we left around 15:00 and headed East to Ciftlik.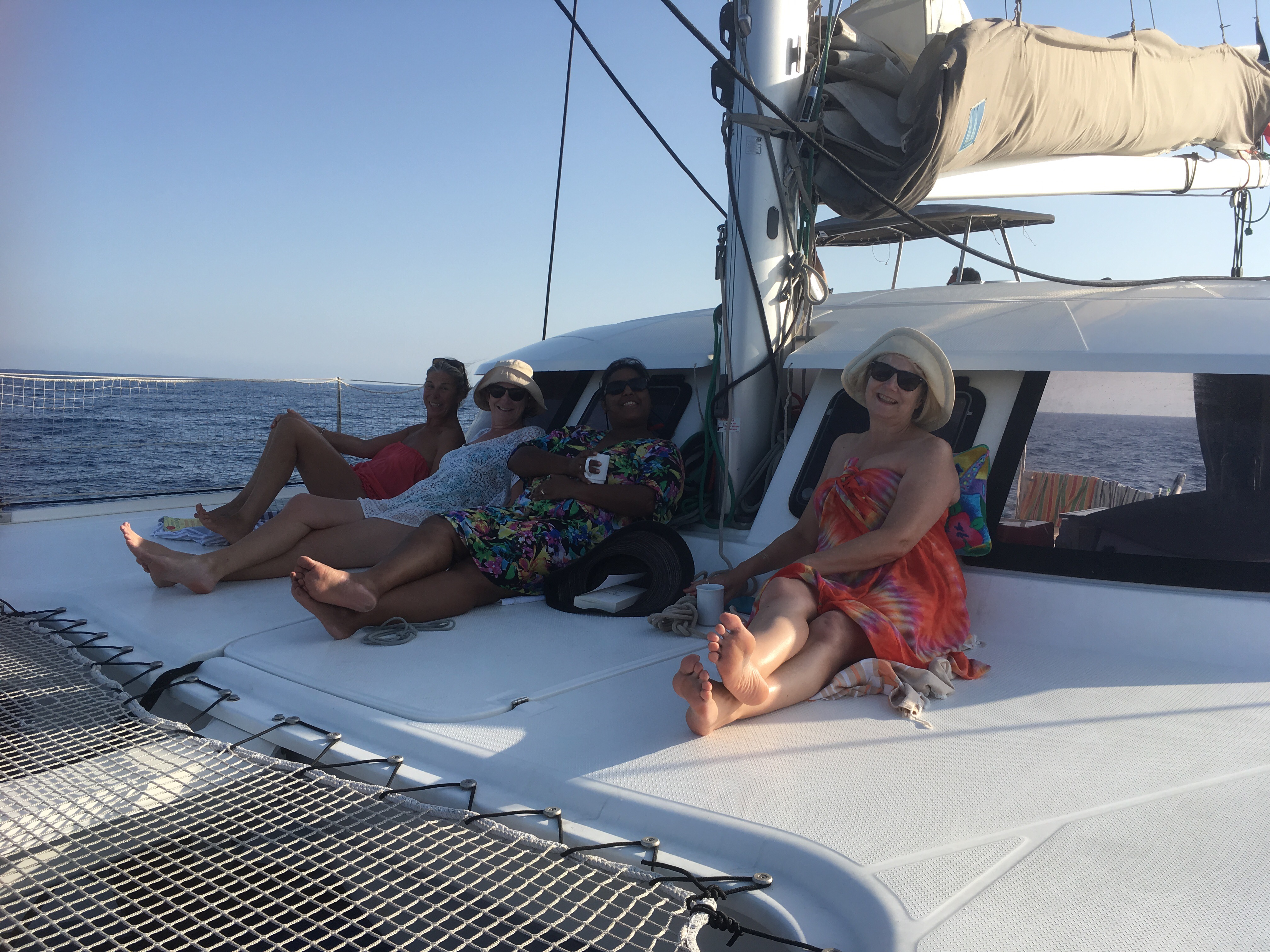 With about 7 knots of wind there was little opportunity to sail so more motoring was required arriving in Ciftlik around 18:00.
On enterance to the bay there was no sign of a busy yachting event,
in fact three restaurants were attracting our attention with flags however comments left in Navionics favoured the middle restaurant so we headed for that which had excellent showers and as ever very nice food.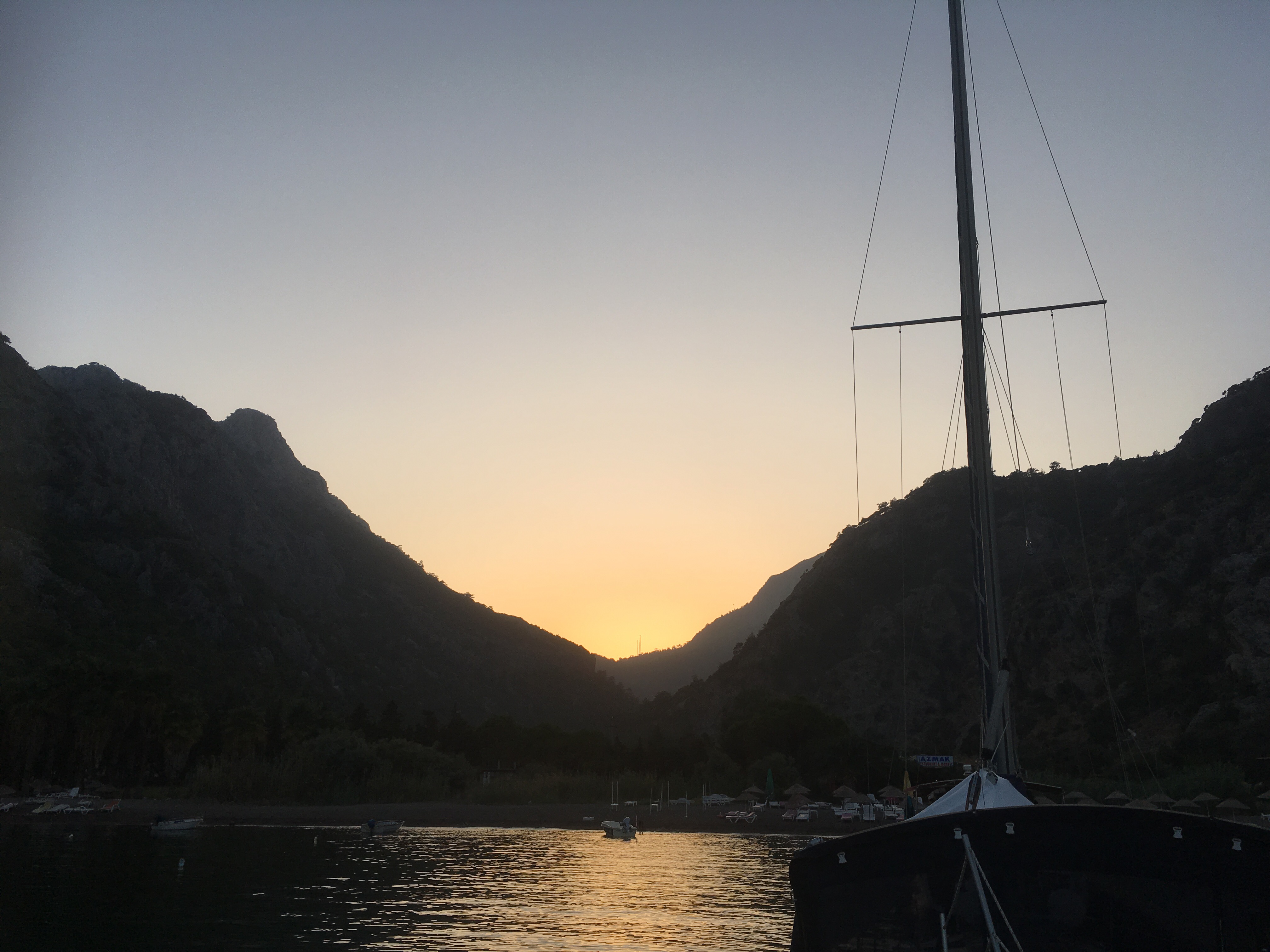 Wednesday 20th
After stocking up with some provisions and admiring the Terrapins in the pond adjacent to the restaurant we set off for Ekincik (motoring again due to lack of wind) where our plan was to anchor in the bay and eat on board for a change.
Save
To get to Ekincik we strayed into a restricted Turkish Navy area and were promptly encouraged to change course after being hunted down by a Naval Patrol boat. Lunch was delayed to 2pm. Adventure on the high seas indeed (well Turkish Waters anyway).