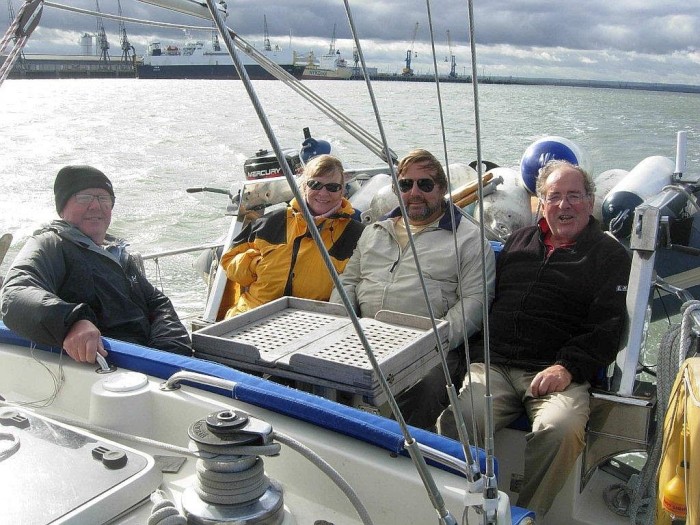 Andy Giles and Jane Paulson on their Bavaria 33 Cruiser 'Stiletto' are making a leisurely cruise to island of Ikaria in the Eastern Aegean – Andy's roots. Jane posted this tribute on her blog at the end of May.

We arrived at the River Morlaix in Finistere. The river started as a huge estuary, similar to that of an Irish Loch, was extremely well marked and very beautiful with not a lot of traffic. We were heading for Morlaix Marina 5.5 miles up river with access via a lock.
As we approached our berth, Andreas commented that a boat two berths further along looked very much like a boat that we had both sailed on and that had been owned by our dear friend Robert who passed away in 2015. I thought nothing more of it as we were in France and didn't think for one minute it would be "Chookapa" – besides the name on the dodgers was Colne Rose. The Skipper of the boat very kindly helped us with our lines as we berthed. Andreas went off to the marina office to register our arrival but stopped en route to chat with the Skipper of the boat he thought he knew. After a couple of "I don't suppose" questions it turned out it was "Chookapa" (now re- named) and had been purchased by Jane and Adrian just before Robert died. She looked immaculate and was clearly very loved. Andreas explained to Adrian that we knew the boat, had sailed on her and had a very strong affection for her previous owner. We were invited on board for drinks and spent a very pleasant couple of hours talking of Robert, his adventures, and our adventures with him. They gave us a tour of the boat and it was evident that they had worked very hard and have done lots of upgrades. In particular a new helming seat in shiny cream leather which Robert had never wanted to install as he feared falling asleep while helming!
Both Andreas and I were very moved and emotional. Robert was a dear friend, a REAL gentleman, extremely knowledgeable, highly competent as a sailor and such good company. Losing him as a friend was very sad indeed and we do think and talk of him often. Robert would be chuffed to bits to know his beloved "Chookapa" is in safe and caring hands.
Save
Save
Save
Save