Bill and Anne Lewis cast off from Lymington Yacht Haven in their Oyster Heritage "Musyk" in early June to cruise down to the West Country with the main aim of being in Falmouth by the end of the month for various commitments and then heading off to the Isles of Scilly for an extended stay, before deciding where next?

Update on 30 June 2019
We moved on board Musyk in the second week of June as planned. We wanted a suitable wind to move us in the direction of the West Country to arrive in good time for Anne's family gathering in Truro on 29 June. Good weather windows were hard to come by, with plenty of unsettled weather forecast for a prolonged period. So we took the first opportunity to head out of the Solent, departing at 4.50 am on a lovely sunny Sunday morning. We hoped to make Dartmouth by 10 pm, knowing that we would have to motor all the way in the light westerly winds. A clean bottom (Musyk's) and a strong spring tide used to best advantage got us to Dartmouth in record time so we were tied up and enjoying our arrival beer by 6.10 pm. Two minutes later the harbour master arrived to collect his dues – prompt as ever! Interestingly a yacht which left the Solent just ahead of us and took a more inshore route arrived just minutes behind us.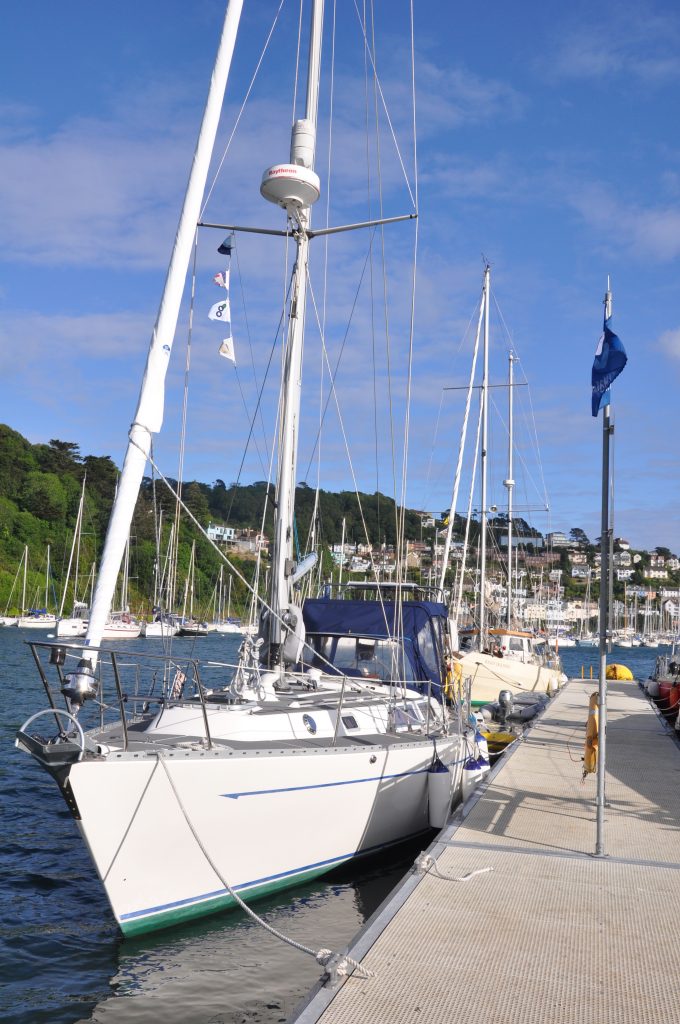 Musyk on the deepwater mid river pontoon near the Dart higher car ferry
We had a few days to remind ourselves of the pleasures of Dartmouth (the scenic view from being moored on one of the deepwater river pontoons, the wonderfully entertaining fishmonger Mark Lobb in the Old Market with fantastic home smoked salmon, Salcombe Dairy icecream …) before William's brother John and his wife Angela arrived in their motor home. Fortuitously Angela's brother Peter had already booked into a local site with his caravan months before we had decided on our dates for sailing. We had the benefit of the facilities at the camp site including the showers, launderette and heated swimming pool, and the bus from Kingswear, on the opposite bank of the river to Dartmouth, stopped directly outside the campsite. We couldn't have planned it better if we tried.
We made good use of our National Trust life membership (a generous present from William's family) by visiting Coleton Fishacre, the home of the D'Oyley Carte family, with a fantastic location overlooking the sea and lovely gardens, and Greenway, the summer home of Agatha Christie, with a fantastic location overlooking the River Dart and gardens which are a work in progress since the National Trust have only had the property for 10 years. We enjoyed having someone playing the Steinway grand during our visit. We hadn't realised that Agatha Christie trained as a concert pianist but was too shy to play!
Then on to Fowey, with perfect wind, so we sailed from the moment we left Dartmouth up to the entrance to Fowey. Off Start Point we were joined by 4 – 5 dolphins who amused themselves for half an hour by playing in our bow wave and criss-crossing underneath Musyk which was a joy to watch. By the time we reached Fowey we were feeling quite tired and glad to find a spare buoy to pick up. Fowey was quieter than usual, probably because of the wet and blustery weather. We saw another opportunity for favourable winds so stayed only a few days with just time to pick up the best pasties we have come across at the Fowey Quay baker – rather large but very authentic and very welcome as we passed Dodman Point in very fickle wind but bright sunshine. The wind picked up to give us a good run along the Cornish coast to Falmouth. On arrival there were very few options for mooring. Everyone had seen the forecast for strong easterly winds and tucked themselves into the marinas. We found a visitors buoy near Greenbanks Hotel but decided to head up the River Fal the next day to take shelter. We were delighted to find a space on a mid-river pontoon just below the Tregothnan estate (think Lord Falmouth and Tregothnan tea) with all round shelter and a view of some seals fishing off rocks behind us. The web cam picture of Falmouth Harbour and the winds of 30 – 52 knots whistling over Culdrose airport near Falmouth suggest we made the right decision.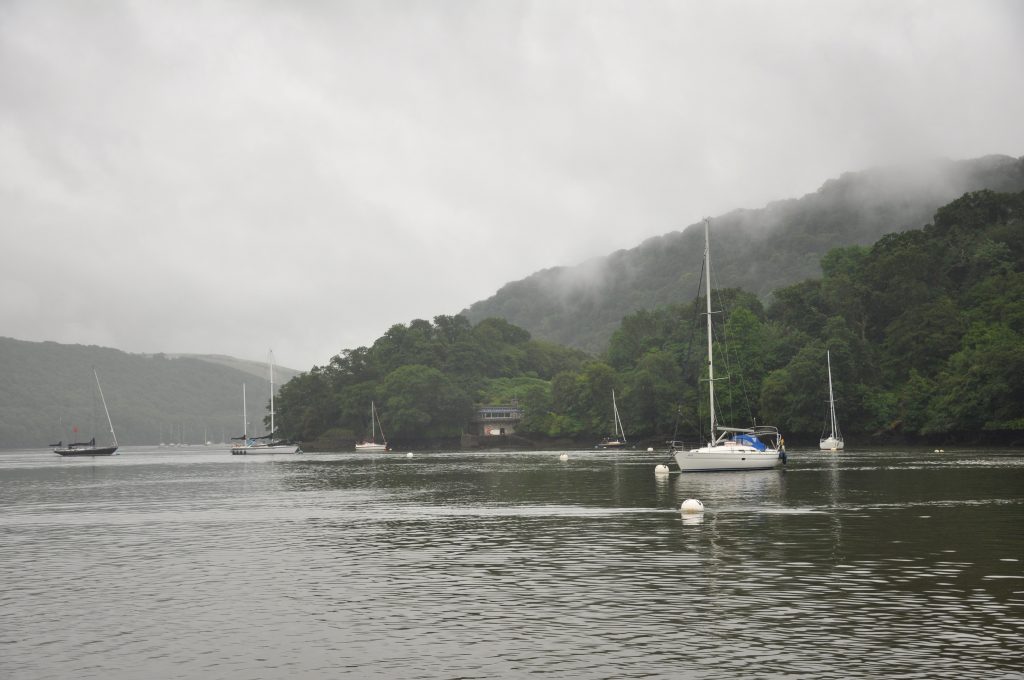 An atmospheric morning on the Dart, moored at Dittisham
We opened a bottle of champagne with supper last night to celebrate our arrival in Cornwall and not quite the first month of our new cruising life. We are still getting used to it – our laundrette techniques need honing, and we are still getting stowage on Musyk sorted out. Power generation, wifi availability, and the "new" dinghy all seem to be satisfactory. We enjoy being able to sit in the cockpit in all weathers, thanks to the cockpit cover which was an excellent investment. We haven't been in a marina since we left Lymington, either being on a mid-river pontoon or attached to a buoy. When we can get ashore we get a good amount of exercise but haven't yet developed an exercise strategy for when we are aboard. All in all, we are enjoying our new life and the opportunities it brings.
Hopefully our next update will include reference to the Isles of Scilly!
Save