Slap in the middle of a much-welcome British heat wave, eight Oxted Offshore members boarded Lloyds Yacht Club's X55 racing yacht – Lutine – for an almost perfect weekend's sailing on 30 June and 1 July 2018.

Lutine is built for speed. Whilst two foot longer than her predecessor – a Swan 53 – the current Lutine is 30% lighter. How? Modern yacht designs use a sandwich construction to save weight, with solid laminate used in areas requiring extra strength. In addition the X55 has a carbon fibre rig, with a strength to weight ratio far outperforming a conventional mast. It all adds up to be a real thoroughbred.
We boarded at Haslar Marina on Friday night with our skipper for the weekend, Peter Young. Peter's sailing credentials are second-to-none: he is a vastly experienced racing yachtsman but also has a real talent for encouraging, motivating and coaching newcomers to the sport. Over supper on deck we discussed the sailing options for the weekend and opted for a passage south of the Isle of Wight to Poole – subject to availability of a deep water berth as Lutine's keel is a staggering 3.2 metres!
After a 'Full Monty' breakfast on Saturday morning we cast off full of anticipation, only to find that the winds were lighter than forecast. Not that it worried Lutine – she seems to be able to stonk along with a SOG almost equivalent to wind speed at any point of sail! So we made good progress around the eastern side of the Island and past St Catherine's lighthouse, where a combination of currents and cyclonic breezes forced us to motor for a while to reach clearer airs past The Needles and into Christchurch Bay.
Conditions were then perfect to fly Lutine's enormous No 1 kite! Not the easiest monster to rig and hoist, but once it was flying we found a perfect point of sail and clocked a steady 10 knots of boat speed, expertly aided by Jeremy's constant trimming on the spinnaker sheet. Not a steady breeze, however, and before long we had to stow the asymmetric and establish a set of reaching jibes to make our way to Poole Harbour.
To emphasise the volume inside the X55, it has its own dedicated sail locker just behind the ingenious foldaway anchor bay, right behind the stem of the yacht. Fortunately there is a set of stainless steel foot rungs built into the sail wardrobe space, otherwise even a 6 foot plus individual would disappear from view completely – never to return?
Once safely docked, with a mere 10cm to spare under the keel, we indulged in a hearty fish and chip supper from the quayside fishmongers. I took a stroll along the quayside after supper and couldn't help but notice from a distance just how tall Lutine's mast is in comparison. It's a long track for the luff of the mainsail, and no wonder Peter was keen for us to watch carefully whilst hoisting! Lots of chances for snagging the cars and breaking the enormous battens! Although powerful electric halyard winches are available, there is no substitute for manually winding to minimize possible damage. Richard became "mast man" for the trip (not sure whether by choice or default!) and did a fabulous job given how much there was to keep an eye on and watch out for.
On the return leg across the Bay the following morning we could explore the upwind ability of Lutine, and marveled at how easy it was to sail close to wind – especially with everyone hiking out on the windward rail and almost achieving neutral weather helm in the process, at a steady 9 kts all the way. We passed a Beneteau 40 footer mid way across: it felt as if we had been gliding past an anchored yacht, but it was still under full sail! What an absolute pleasure to demonstrate superior sailing performance….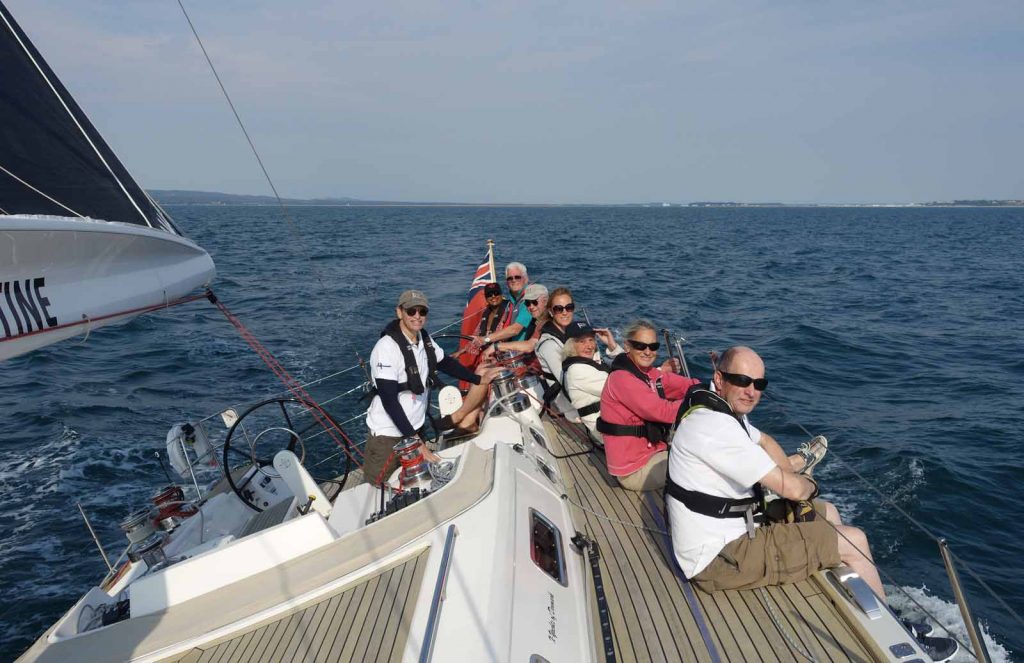 A highlight of the return passage occurred as we entered the Hurst Narrows. We had the flood tide with us but Peter encouraged the lady members to act as pit crew, whilst he called a series of tacks going up the channel. He didn't take prisoners either, insisting on slick disciplined co-ordination on both sheet winches to time perfect execution of heading changes. After half and hour, all I can say is "Boys watch out – I can see an all female entry in the next OxO Rally happening". And they will be just as competitive!!
The day was completed with a leisurely lunch on deck in blistering sunshine off The Green at Cowes, using one of their mooring buoys. A wonderful way to "chill out" with a glass of Prosecco under an improvised sun-screen strung over the cockpit from the substantial mainsail boom.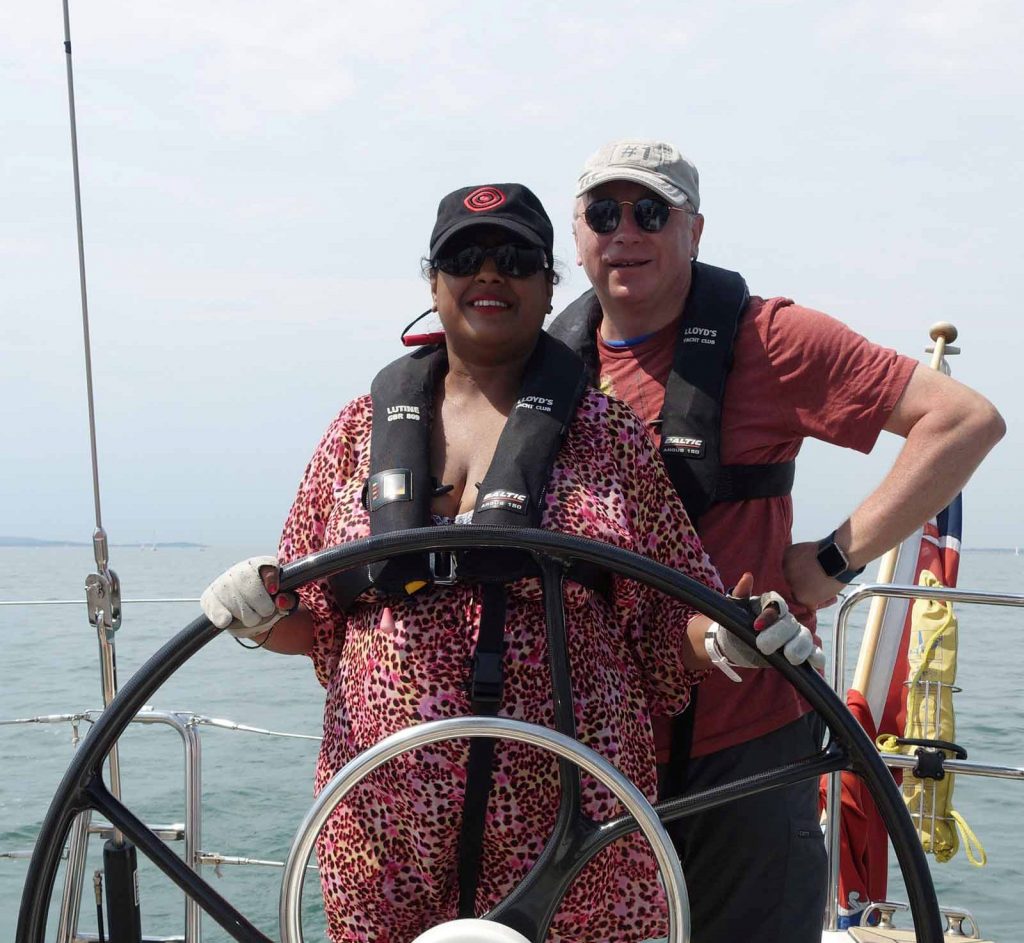 It was great weekend and everyone, we're sure, will remember it for their own reasons. Catherine thanked Peter for teaching her so much and giving her the chance to get truly "hands on". Thor was really happy to be back on the water after such a long absence, and our new recruit Sonya is now totally addicted! Looking forward to the next Oxted Offshore Lutine Club Weekend!
JT
Commodore
Thanks to Thor and Richard for the pictures below with highlights of the weekend: