Nick and Gail Leaver cast off on 11 May 2017 to sail their Dufour 325 'Nick Nack' around Britain in leisurely style. They will be cruising up the east coast and then down the Caledonian Canal before meandering back to Port Solent later in the year.

---
Postcard from Gail on Friday 1 September
The best laid plans of mice and men – as a local might have put it – rendered our intentions of going to Skye, Staffa and Colonsay as impossible due to gale force winds, driving rain and poor visibility most days with weather forecasts changing from one extreme to the other at less than 24 hours notice.
We retraced some of our steps southwards from Tobermory down the sound of Mull to Oban Marina which is actually on the Isle of Kerrera (with a courtesy ferry to Oban pier). On leaving Tobermory we had one dolphin for company in the rain. Oban had a supermarket to top up stores and a small local museum and a few shops. I thought there would be more to see/do but it was full of walkers and walking shops.
The Isle of Kerrera is very quiet, about 45 people live there. It had a walk around the island and one across, and we did a bit of both, Nick telling me it was a short cut to the marina. We walked – well, bog trotted – around, through and in a bog (about an hour) and then had to wash our trousers, shoes and socks. The upside of this was due to the wet weather we did not get bitten by any midges as apparently it was too wet even for them!
On to Ardfern, a lovely spot at the top of a Loch. To get there we sailed down the Sound of Luing, generally at well over 12 knots over the ground with an extremely big spring tide under us, generally in a SW direction but occasionally in ever decreasing circles when the helms-person didn't spot the vicious whirlpools in time! Two particular interesting moments: first was me telling Nick that on the charts we were sailing over a submarine exercise only to see "black things" in the water! On a second glance it was not a sub but a pod of dolphins (thank goodness). The second was a beautiful blue Rustler 44 yacht flying a white ensign came in! Nick was going to take a line for them – but no need, as from nowhere a waiting team arrived. Later, on the way to shower block, I met the lady owner and her husband and said hello – as you do! (For the avoidance of doubt it was me on the way to the shower block not HRH.) They left after breakfast, we assumed to go to meet the family at Balmoral?
Plan A was to go west through the Corryveckan (aka the Witches Cauldron) when a mile away at the sight of a standing wave nearly 3m high and white water beyond (it was still a spring tide) we took the sensible route – reverted to Plan B! Beating to windward down The Sound of Jura was almost as exciting, but safer as far as Craighouse, the principal settlement on the Isle of Jura. We picked up a bouy in the bay looking over to the distillery. That was the easy part! The tidal waves in the bay rocked the boat from side to side as our head pitched and pointed to windward. I just took to my bed with a pill until the wind and waves dropped enough to cook dinner. No telephone, wifi or radio signal available till next day's potter over in the tender to the Jura Hotel … coffee, shower, lobster lunch washed down with a wee dram from the next door's distillery. If only it would stop raining for a while!
After a couple of days in Jura we sailed and then motored to Port Ellen on Islay. I don't remember much of the next day as we visited 3 more distilleries in quick succession on a 6 mile walk. It only rained in the evening that day which made a lovely change.
We left Port Ellen in the usual F6 squalls, driving rain and near zero visibility, encountering the Calmac car ferry which appeared suddenly in front of us out of the gloom in the narrow approach channel. We had an otherwise fast, uneventful crossing to Ballycastle, arriving in time for the "lively" Auld Lammas Fair. Security was high – and that was before we reached the market stalls selling body armour and toy Armalites! The locals were very friendly and Nick assured me that the Guinness was the best he has had for some time. We had a day out with a rambler bus ticket visiting the Giant's Causeway and the Rope Bridge with a walk along Whitepark beach as the Atlantic rollers crashed around us.
We left Ballycastle in sunshine, yes I did say sunshine and what's more it stayed dry all the way around the Mull of Kintyre to Campbeltown. Our first voyage without full follies since June! It was so good to have visibility and be able to see the numerous islands, most covered in purple heather and green grass which made them look like they were covered in velvet.
Tomorrow we head up Loch fine to Tarbert or Portvadie – will it be dry and bright, we will have to wait and see?
Postcard from Gail on Saturday 9 September

Campbeltown was interesting – it was the first time we had to raft up alongside another boat. The harbour master was surprised that so many boats had arrived that day but given the wind strength we were not! Next day, on visiting the RNLI shop as we always seem to do, we were talking to the chap – who said "have you been on one of our lifeboats?" No we hadn't, so he gave us a personal tour of the Tyne class lifeboat – it transpired that he was the head mechanic, having had a background in engineering.
We actually had a good a good sail to Campbeltown with dolphins around the boat. We didn't see them until they came up close and started to breathe noisily and, hearing them, you could look in the right direction to find them. This was also our first day of sunshine since we returned to Scotland on 7 August. Our next trip was to Tarbert, our second day in sunshine. Friends had recently visited there and recommended the scallops sold live from holding tanks, but we arrived late on Saturday and the shop was closed until Monday by which time we had already left so we didn't get to taste them.
Next we sailed on to Rothesay on the Isle of Bute. Nick had last been there in 1967 on the Dartmouth Training Squadron frigate HMS Torquay. We took a bus trip around the island which was made all the more interesting by the local bus driver's commentary. The harbour showers and toilets were fascinating, being built about 140 years ago with polished copper pipe work and amazing appliances – nuff said! We wanted to go on to Arran but the thought of another stormy night on a buoy didn't appeal so we moved marinas to Ardrossan for a night.
Our last stop was Troon: the tail end of another storm meant a very early start to do the last 9 miles which seemed like a lifetime, with the wind F7-8, enormous waves breaking on the deck and, of course, heavy rain. The nice bit was entering the harbour to a welcoming committee of dozens of eider ducks sheltering from the storm. We are now packing the boat up for over-wintering here.
Over the 37 days we have been in Scotland we have enjoyed only 3 without rain! (The last fine day was timely for packing up sails etc.) The rest of the time we have found ourselves either sheltering or sailing in F5-F7 winds (regardless of forecast), driving rain and near zero visibility to and from unfamiliar ports among "iron-bound" coasts.
Although there were moments, when the rain stopped and the clouds broke, when we could view the amazing scenery (with and without rainbows), the last month has been a struggle to keep warm and dry, especially to deal with wet sailing gear every time we stopped. Consequently, we have reluctantly accepted – with no change in the 10 day forecast – to curtail this part of our trip and return home.
Looking forward to catching up with family and friends very soon. We will return here to Troon in early May 2018 for the next part of our adventure…..
---
---
Postcard from Gail on Monday 21 August

Well here we are back in Inverness, Scotland, having flown from Gatwick on the 7 August. It was good to be back on Nicknack: all was fine all be it a little dusty!
We left Inverness marina and headed for Clachnaharry sea lock to start the journey along the Caledonian Canal. We stayed the overnight in Seaport Marina (near the sea lock) to restock the store cupboard at the nearby Co-op. Next day more locks and swing bridges then before we managed a short sail on Loch Ness in a fickle wind from every direction. No sign of any monster unfortunately although the depth sounder showed very shallow water from time to time in the middle of the Loch: could this have been Nessie swimming directly under our keel?
Fort Augustus was a welcome overnight stop and pick up email with wifi in the pub! Next day was our second "flight" of locks with our routine well established and help from lock keepers calling ahead to the next lock or swing bridge to let them know we are on are way. We were expecting high winds later but they came much earlier than forecast while we were still on Loch Oich (the highest point on the Canal) so we made for on a pontoon at Laggan. This turned out to be a bad move, it was an exciting berthing with F8 winds beam on in a short steep chop and driving rain. I leaped off the boat to tie up on a finger pontoon and was so pleased to see 2 men from the local boat hire company standing by to help any returning cruiser. I hoped they would take a line but no, they didn't, afterwards saying that "you looked like you knew what you were doing so we left you to to it"? That night was just like sleeping in a washing machine with not much sleep, and it was darkest place on earth, no lights no moon, no stars, nothing.
We had to move early the next day as the marina was expecting many more cruisers returning at the end of the hire period. On to Loch Lochy, the waves (yes huge waves on a loch,) and with the wind F8 from dead ahead again and seriously heavy rain, it took us three and half hours do 8 miles. By the time we reached Neptune's Staircase we noticed a little warning light on the engine panel showing low oil pressure despite changing oil and filter at Inverness.
On arrival at top of the Staircase (a flight of 9 locks and 2 swing bridges) this did not look good. We called a marine engineer at the sea Loch at Corpach Basin; he checked everything over and said it was ok to continue – probably an electrical fault we could defer repair until haul out.
While waiting at Corpach we noticed the West Highland Line next to our berth was running the "Hogwarts Express" train several times a day. Each time the rain stopped and the clouds cleared for a few minutes we also had magnificent views of Ben Nevis.
We have been so impressed with the friendly and helpful lock keepers, the magnificent engineering and working of the locks, albeit the Canal was relatively uncrowned (August is apparently a low season). Thomas Telford certainly knew what he was doing when he designed it with 29 locks and 10 swing bridges in 60 miles. The scenery has been wonderful the different greens of the trees the pink of the rosebay willow herb along the Canal, the magnificent mountains when the clouds lift; not much wildlife but lots of ducks!
On Monday we finally exited the Caledonian Canal and motored, then sailed in continuous rain down Loch Linnehe and up through the Sound of Mull to a very pleasant little harbour at Loch Aline where we spent the next two days stormbound again. It has now rained every day since our return to Scotland, 8 days now! The only upside of the continuous rain is that the "flying teeth" have been kept at bay.
Another wet and stormy day – so we sailed to Tobermory arriving early afternoon, then joy of joy the sun came out, do did all our wet clothes including jackets, trousers and boots we had them hanging from every available part of the boat. Tobermory is a real "chocolate box" picture of a seaside village, lots of lovely cafes, restaurants, gift shops and the local people are so friendly. But guess what? By 9pm the rain was back and another mega storm overnight. We plan to stay here for a while few days before the big decision – do we continue north or give in to the weather and head around Mull and then south?
---
Postcard from Gail – Tuesday 18 July
We left the boat in Inverness marina for July, as we had a family wedding, grandchild's birthday party plus a selection of visitors, some from Switzerland to come home for. We plan to fly back to Inverness on the 7 August and we have already booked the first inbound lock on the Caledonian Canal on the 8th. The idea – weather permitting – is to sail around the Western Isles, and we are just starting to do a little planning now – looking at Oban, Skye, Mallaig, Mull, Jura etc maybe the Crinan Canal and Islay.
It has been odd to be home in a house with a garden to look after but a joy to just put washing in a washing machine and not have to worry about the time it takes. We both miss the boat and are looking forward to part 2 of our Summer Odyssey.
We had a day sail to the Isle of Wight with Mike Andrews on his boat. Again, it was nice to go out from a mooring that we knew; all the ones we have entered and left since Eastbourne have been a new and sometimes exciting adventure.
---
Postcard from Gail on Tuesday 20 June
We entered Eyemouth with seals swimming around the boat, popping up in front of pretending to be fishing pots, puffins diving in close to us with their orange beaks: they are not very graceful when landing and taking off.
Eyemouth harbour is sheltered most of the time, but on the night of the "big storm" I did not agree with this – Nick of course slept through the gusts of 25 – 28 knots with waves in the inner harbour slapping against the hull. In the morning the water around us had turned dark brown this coming down into the harbour from the River Eye. The town itself is a curious place with local pastimes advertised outside the town hall as smuggling and witch-burning.
We took the bus south 6 miles to Berwick – due to the rain and fog we could have been going anywhere? On arrival a window in the weather, so we walked around the old Elizabethan Walls to the Scottish Borderers Museum- very interesting, more so to Nick than me.
We left Eyemouth at 4.15am to sail north to Arbroath, light headwinds followed eventually by no wind then high winds and rain! We sailed past the Bell Rock lighthouse designed by Robert Stevenson and erected in just 4 years despite being only able to work in the summer months and between tides. We doubt if that programme could be bettered today. The entrance to Arbroath harbour is narrow but the whole area is scattered with fishing pots, some marked ok, most are just small balls/litre milk bottles making the entry very difficult in poor light. It was difficult to find room to take the sails down, making sure that the propellor was clear of cheap and nasty nylon floating lines. The harbourmaster was the first to point out that local crabbing hobbyists were out of control. However, we were welcomed by the smell of the Arbroath Smokies being smoked, but have failed to buy any as they were not ready by the time we left!
Arbroath was wet and very cold, but a highlight was finding Wetherspoon's, it was a welcome place to eat with families, had clean warm loos, and the only wifi in town. We listened for the shipping forecast at 0519 but the BBC arbitrarily cancelled it without warning in favour of Jim Naughtie continuing to prattle on about the minutiae of the election, a case of the metropolitan elite ignoring the safety of seafarers.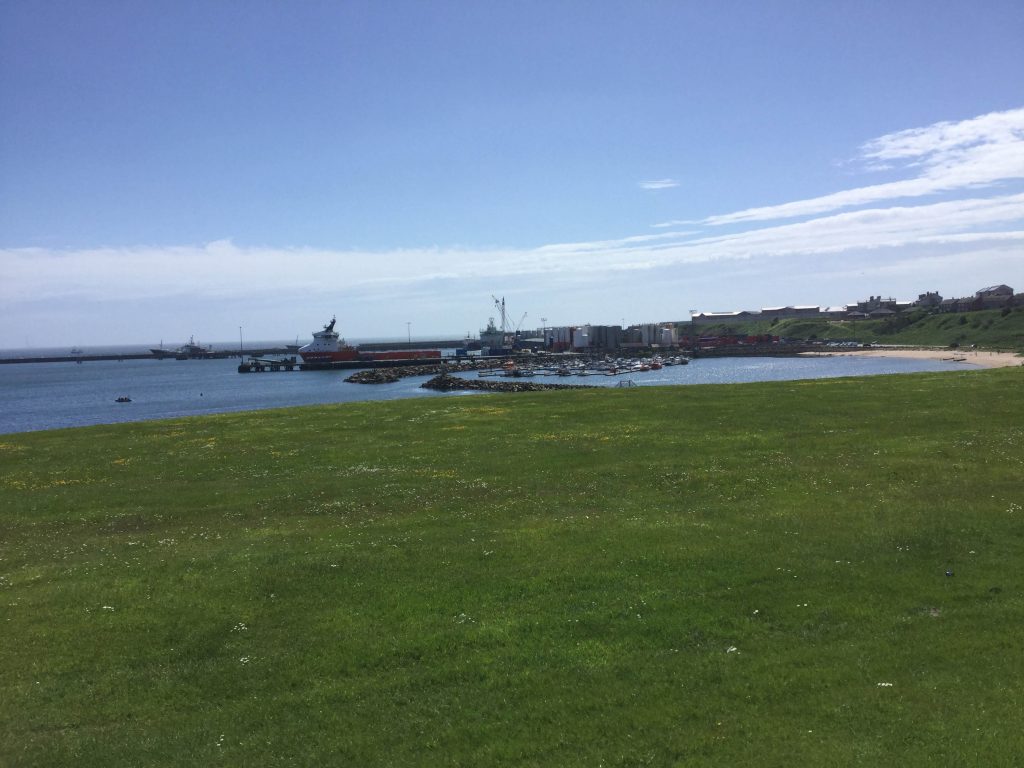 After Arbroath we pressed on to Peterhead arriving just after dark. The harbour control gave us permission to cross the harbour as quickly as possible (to avoid commercial traffic) to the marina then complained when we slowed down in the shallows to put out warps and fenders. The marina itself is thoughtfully positioned in a corner of the harbour next to a big ship fuel berth and a prison. We were storm bound there for a few days discovering why it is known as "The Blue Toon" – it's because it's bitterly cold, this is midsummer! Even the tanning parlours advertised themselves as the only means locally to "top up your vitamin D"! We also discovered there are no restaurants in Peterhead, the locals preferring take-outs at all times. To get out of the constant rain we visited Peterhead Prison, part of which is now a museum including scenes of the rooftop riots in the 1980s which required the SAS to stop.
We finally left Peterhead, rounding Rattray Head and pushing on to Whitehills among the seals and puffins again. We even saw a pair of whales half a mile away, looking like two large smooth black rocks moving quickly on the surface with a visible bow wave. Whitehills is a charming little harbour, considerably warmer than Peterhead but just as wet! We had Ellen McCarthur's yacht Moonspray next to us, crewed by young people recovering from cancer, sailing around Britain from Largs in a clockwise direction.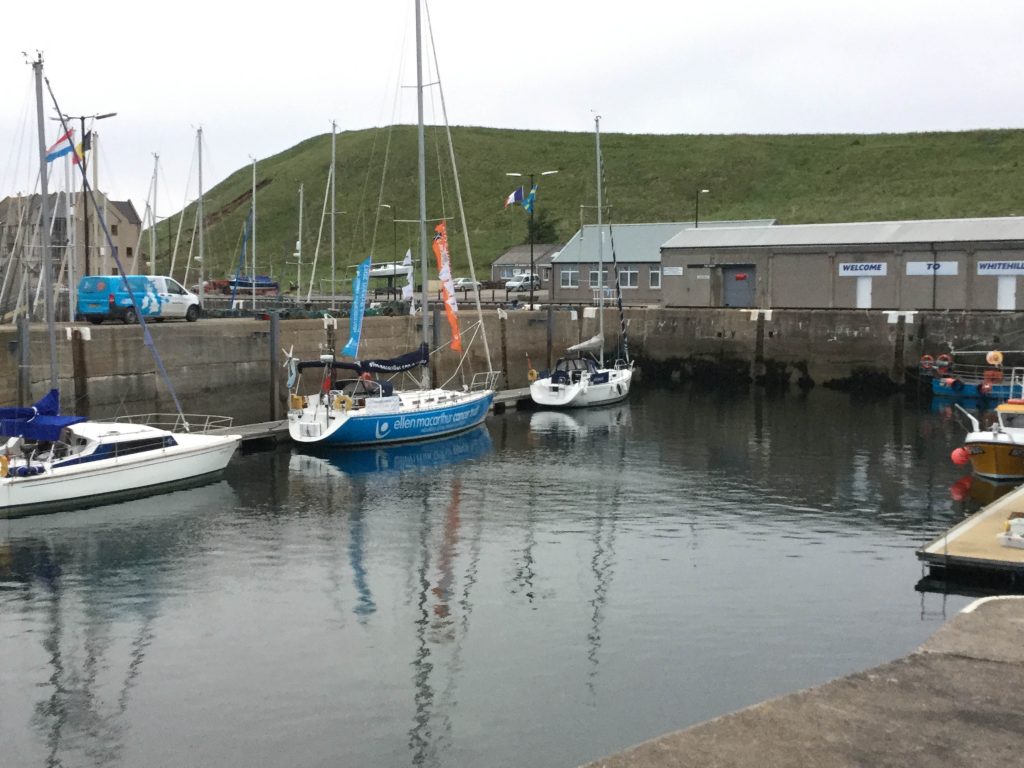 With a window in the weather we sailed 25 miles west to Lossiemouth where we spent a few days being buzzed by the Typhoons from the RAF station. On the way we saw a pod of dolphins as well as all the seals which by now we are getting to feel quite blasé about. To get out of the rain we took the bus to Elgin to stock up at Tesco, the only large store for miles.
We also visited the local community/fishing museum which had records of the old RN base, HMS Fulmar where Nick was pleased to see a mention of his cousin (who was based there) bombing the Torrey Canyon in 1967. Coincidentally, a resident of Elgin has an old Buccaneer (1960's low level bomber) parked on his garage forecourt, now a local landmark.
We left Lossiemouth for our last sail – to Inverness – in a F5 headwind so it took most of the day to get there. We were disappointed not to see the well known pod of bottle nosed dolphins in the Chamonry Narrows, as were the hundreds of tourists in boats and on the beach also looking out for them. There were however dozens of seals basking on the sand as we went by.
The tides are a mystery in Scotland. We have a tidal atlas which shows which way the the stream is running at whatever time, relative to High Water Dover. However, it is consistently 1-2 hours adrift – and yes, we have made the appropriate adjustment for BST!
The weather all the time we have been in Scotland has not been good. Although we have had the odd sunny interval, it has rained every day and temperatures have varied between 11 and 16 degrees C. Ironically, we keep hearing on the weather forecasts that the South is having a heatwave and the Hive system in our house emails us each day to complain that the house is far too hot (with the heating turned off, of course). We have about a week here now before we fly home for July so plan to get out and about – just like being on holiday.
We have been amazed at the lack of darkness up here. It is still half light at nearly midnight and dawn is less than 4 hours later.
820 miles and still friends, still talking, still married!
---
Postcard from Gail on Sunday 4 June
We left Lowestoft Royal Norfolk and Suffolk Yacht Club with John on board for the long leg up to Grimsby at 6.15 am. The weather was cold and we had wind for the first couple of hours then had to motor but had the company of seals while watching out for wind farms. The wind came back and a lovely sail along the coast although we could not see much of it due to poor visibility. The pilotage up the River Humber into Grimsby in the dark after 18 hours sailing is difficult. The coast (some 6 miles ahead) is just a mass of lights with a lot of shipping including large tankers heading for the same channel as ourselves. Nick asked John and I to watch for the red lights of two buoys on the starboard side close together but we never saw them. However, the floating fuel line with its pretty orange lights we did see and kept well clear of!
We arrived at the large ship lock 15 minutes too soon for sufficient depth of water. Spotting the correct lock entrance (there were several) was not easy in the Stygian gloom so we pottered around in shallow water until the lock keeper called to say "you can come in now". The lock is enormous, very deep and pitch black with solid stone slime covered walls but the lock keeper was very helpful in guiding us in and passing down lines. Grimsby itself is a rather sad place, the high street is full of closed down shops, betting shops and pawnbrokers (even UKIP's office was closed!) However, the Fishing Heritage Centre was a great place to visit with the "Ross Tiger" trawler alongside with its last skipper still on board to give us a very personal tour of the vessel and tell us tales of the Cod Wars. The old fish docks which once were full of trawlers are all empty albeit part now forms a marina. The buildings around are empty and dilapidated too but still manage to have a smell of fish lingering about them – even now!
On to Whitby next, early start and 14 hours later arrived at the entrance to the harbour, alas about half an hour too late to enter on a rapidly falling spring tide. We had about 4 hours to kill, so ended up anchoring in Sands End Bay for a "wee dram" and a rest! The next morning – well 5am we motored into Whitby Harbour, which was such a great feeling for me on my birthday to come back to a place that held so many childhood memories.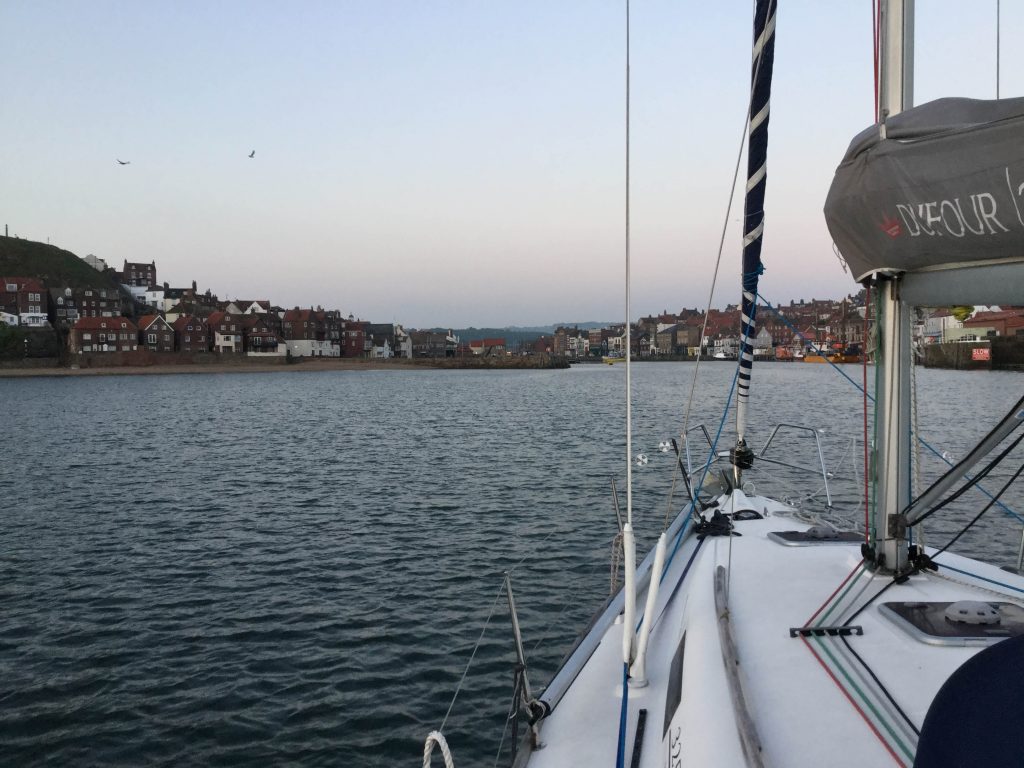 Shan, John's wife came to collect him with her personal "sat nav" Janet on Friday. They came with all sorts of goodies including a birthday cake with lots of candles on it! We really enjoyed having John on board; he was a great help sailing the long legs and very good company, keeping Nick calm at the more stressful times. Hopefully, they both will join us again in Scotland and maybe Stuart and Eleanor will see us at some point too?
Yesterday, we arrived here in Hartlepool, a very interesting sail, not what the weather man said but a f6 with enormous waves. We had such a fast trip we had to pick up a buoy outside the harbour to wait for water and the lock. Today we went to visit the Trincomalee, which used to be called the T S Foudroyant, and was berthed in Portsmouth harbour in the 1960's Nick had a week learning to sail when was just 10 years old. Those were the days of course when you could put a couple of dozen 10-12 year olds out in dinghies in Portsmouth Harbour and tell them simply to try and avoid the warships, ferries, commercial traffic and dockyard workboats. Gradually, the safety police made life more difficult and sailing courses for kids closed in the 1970s. Now it is part of the National Museum of The Royal Navy, which was fantastic, the ship was completely reconstructed and refurbished, afloat, but sitting in "dockyard street" with each shop telling the story of the dock side trades.
Our next stop was Blyth where there is a small marina just inside the harbour entrance. The adjoining club house is the Royal Northumberland Yacht Club, being the old Seven Stones lightship – the one that some of old enough will remember as the lightship that the Torrey Canyon tanker failed to see in 1967 causing a major ecological disaster. We meet up with other sailors who are also sailing around the UK and had a good evening in the Club's lightship bar.
Leaving Blyth we set off for Amble, a lovely marina with wonderful showers and a bath in the ladies! We walked along the river path, to Warkworth Castle well worth a visit, then on to lunch in a local pub where the night before was the local Rotary meeting – missed Rotary by a day again!
Today we left Amble for Eyemouth, again the weather forecaster said it would be a nice 4-5 southwest but it was in fact 2-7 north, north west. Heavy rain,hail, sun, wind in squalls of 28 knots then no wind and everything in between! On entering the harbour we were meet by seals swimming along side the boat to our berth.
576 miles from home port now, still friends, still talking to each other?
---
Update from Gail on Saturday 20 May
We left Port Solent on 11 May for Chichester to take part in the "Kids Out" day sailing on the 12th with children with special needs. We had two boys – great fun, but the most challenging of all the children we have taken out over the years. One would not get on the boat! Eventually we persuaded him on and guess what – he didn't want to get off at the end of the sail. The other one got back on the mini bus and asked if he could come again tomorrow – which was nice to know he wanted to!
We left the mooring buoy at 3.45 am ( sorry we woke you up Hugh and Marian), the rain held off for half an hour and then it poured down for the next 2 hours. Originally we were heading in the direction of Brighton, but the wind was great so we kept on to Eastbourne. Had a couple of nights there and caught up with family and friends for lunch and tea.
Another early start in the rain for Ramsgate. Good wind till the entrance to Dover and then the wind dropped to nothing with a ferry coming out and a fast moving ship coming in. It was the engine from then on into Ramsgate where the wind picked up just in time for berthing. We had a few days looking at the sights of Ramsgate, a visit to the tunnels that were used in the war as homes for the local people as well as an air raid shelter. I am not at my best walking with torches for miles under the streets of Ramsgate – but the two guides were very good, one a local chap who grew up with the stories of life in the tunnel and a young lad doing his Duke of Edinburgh volunteering.
Another visit to the hotel we stayed at in January, but only for a splendid lunch! Off again in the rain, early – 6 am for Shotley marina, just next to Felixstowe. A good sail mainly, but we played the hedgehog crossing the road again with container ships and bulk carriers going into and coming out of London. We have been updating our charts as we go to reflect all the new wind farms which keep popping up on our way. One sad but interesting sight was a dead whale drifting near to the main channel outside Felixtowe – a boat just ahead of us called the Dover coastguard to report the sighting.
Shotley marina is between the river Stour and the river Orwell, and was part of the old Ganges Naval Base to train "boys" to become sailors. Some may have heard of the "Button Boys" who all had to climb up to the top of a mast and stand on the very top in a display – no health and safety then? We went for a walk along the River Orwell and in a local churchyard came across about 100 graves of boy sailors who died in the 1918 flu epidemic – poignantly more of those than in the local war cemetery.
Today we left Shotley in dry weather and had sunshine till we berthed, that was the good part. The wind was from behind and the waves huge, making the boat roll – definitely not a sail to be repeated – although it was fast and we tied up in quite an exposed F6. Happily, the rain only then started at Lowestoft. We plan to stay here a couple of nights to pick up John (Bennett), an additional crew member who will be sailing with us on Monday when we start the long sail to Grimsby, weather permitting,
Well that's the first week, 250ish miles sailed and we are still friends?
Save
Save
Save
Save
Save
Save
Save
Save
Save
Save
Save