Nick and Gail Leaver cast off on 11 May 2017 to sail their Dufour 325 'Nick Nack' around Britain in leisurely style. They will be cruising up the east coast and then down the Caledonian Canal before meandering back to Port Solent later in the year.

Gail has been sending regular e-postcards logging their journey and their escapades on and off the water. Read on …. !
Postcard from Gail on Friday 24 August
Newlyn harbour was a good shelter from the worst of the stormy weather, rain and high winds and we ended up we staying for 4 days. The harbour wall at low water has an arrow marking cut into the stone indicating the Ordnance Survey (Newlyn Datum), used as the Zero level on all OS maps.
Newlyn Harbour is very much a working fishing harbour and it was good to see the fishing boats come and go. The downside was the toilets – very fishy? We took the bus to Marazion village were we walked over the causeway to St Michael's Mount and, after a picnic in the grounds, we joined the half hour queue to look around the house. The family still live there so only a few rooms were open, but still very interesting. We walked to Penzance another day and found more going on with lots of very unusual shops, and Mousehole village another which looked rather sad and more commercial (boasting what must be a world record price of £13 for an underwhelming crab sandwich): it was much nicer when we last visited in the winter.
Off to the Helford River, we had our daily visit from a family pod of dolphins and lots of turnstones (small seabirds). The first hour was a brilliant sail but then someone turned off the wind, so we motored the last 20 miles. Having picked up a buoy mid-river we settled down with a cup of tea and watched a couple on a new 50 foot catamaran take 2 hours to pick up and secure a rope to their buoy. Somehow they got their vessel stern to wind and tide with the buoy between the floats and under the deckhouse. We watched like a couple of ghouls, interested in what they would do next, as their relationship deteriorated to screaming at each other. Eventually, the harbourmaster arrived and turned the vessel around for them in less than 5 minutes.
Helford River is beautiful: we took the tender over to the local sailing club to use their shower facilities followed by a very tasty evening meal. The village has some lovely houses with river views and appear to be holiday homes. There is a pub and a rather twee village shop. Next day we motored the 26 miles to Fowey, still warm and sunny with dolphins swimming alongside us most of the way. Fowey is very picturesque, has lots of small shops and galleries, tea shops and pubs. We took a ferry to Polruan and walked along the riverside for about 4 miles to catch the ferry back from Bodinnick to Fowey for ice cream.
The next day was again a motoring day, 22 miles to Plymouth Mayflower Marina, very nice facilities and excellent Bistro, but a bus ride into the city. The marina was home to a huge number of compass jellyfish, pink hemispherical creatures with brown lines radiating from the top centre, just like a binnacle compass.
Moving on to another day and another river, this time the River Yealm, again very picturesque with a pub and shop and lovely walks along the riverside. One of our most enjoyable sails was the day we left the River Yealm to sail around Start Point, overtaking four much bigger boats that left well before us and arriving in Dartmouth 5 hours and 32 miles later- yet another pretty river. Here we used the water taxi rather than our dinghy from the pontoon to shore as it was only 50p each trip. It was nice change for me not to have a wet bottom from sitting at the bow of the tender!
After two days in Dartmouth we awoke to a shipping forecast at 0518 telling us that a F7 gale was due imminently. Having arranged to pick up another crew member (Nick's friend, John) at Torquay that same day, we skipped breakfast and slipped immediately, just making the safety of Torquay harbour as the storm arrived. Needless to say, we were rafted 3 out but the two much bigger boats between us and the pontoon decided to leave the same afternoon: we played musical chairs in torrential rain for twenty minutes as all the other boat crews stayed inside and watched us, not wishing to step outside in the storm! High winds were still forecast the next day so we attempted to take the Dart Valley Steam Train to Agatha Christie's house at Greenway but it broke down after two stops so we spent the day marooned in a railway cutting until the train could be rescued by a diesel loco.
Eventually, when the wind dropped to F5 we set off from Torquay for Weymouth for the 40 mile trek across Lyme Bay which was still feeling the after-effects of the storm, so much so in fact that our new crew suffered mal de mer for most of the day. Strangely, this was the first day for nearly a month that we had no dolphins joined us, just the odd seal now and then. On our "rest day" in Weymouth we took an open topped bus to Portland Bill to look at the Portland Race. John said if we had been going the other way and he'd seen what the Race looked like beforehand, he would have thought twice about sailing with us! John returned home via train, leaving us to move the boat into the Weymouth Marina for a few days so that we could make a flying visit home to go to a friend's funeral in Brighton.
Before leaving Weymouth marina we had on board our neighbours from when we had our first house in Weymouth (1976) lovely to catch up.
Off to Poole the next day, the forecast suggested a pleasant sail, however no wind for the first hour then a gentle breeze across Lyme Bay. Ideal for the spinnaker, we had not had this in use for some time, so it was a fraught time (well a good 20 minutes) at last all was well – it looked beautiful all pink and blue and then we have a fantastic sail all the way to Poole marina. Next day was hot and sunny and my brother and sister in law came for lunch on board lots of chatting no sailing that day.
Leaving Poole with light winds, decided to take the inshore shallow passage for a change, with less than a metre under the keel we saved half an hour on the journey. The wind was light to start with, then picked up in Poole Bay giving us a steady broad reach all the way to Yarmouth. Plan "A" for the next day was to meet friends in Lymington, but the rain, wind forecast of F6 for the coming days changed all our minds so we left against the tide for Port Solent arriving late afternoon.
Well, we are now home after visiting 33 ports in 81 days on the boat and 1150 miles this year. Our total for the whole two-season odyssey is 65 ports taking 161 days away from home and travelling a total of 2306 miles.
What will we do next year?_____________________________________________________________________
Postcard from Gail on Saturday 28 July
We returned to Milford Haven on the 16th July hoping the local engineer had replaced the oil pressure sensor that had an intermittent fault. This small job (about half an hour's work) should have been done in the 3 weeks we had at home but leaving it until the day we were due back, he also found a tiny crack in the connecting coupling. The coupling (about the size of half of your little finger and being Volvo having a price tag of £84) was posted 2nd class arriving 5 days after us.
This meant that, because of tide times, we missed the only day to sail into Padstow and arrive in daylight – our sense of adventure not yet extending to crossing the breaking waves on the Doom Bar then finding a way up the narrow channel up the River Camel in darkness and a strong onshore wind.
Eventually, we left two days late and anchored at Dale, a convenient place to stop for a couple of hours rest and a meal leaving at 8pm in rain and then fog. Sailing at night can be wonderful: as soon as we lost the fog, the rain stopped and the moon set, all the stars came out. At sea stars are so much brighter, bigger and thousands of galaxies can be seen, many more than on land. Better still, we were followed by a large pod of about 20 dolphins, the first time we had seen them at night. They took it in turns to charge the boat, their phosphorescent wake from several hundred metres away making it look as if we were being torpedoed. Fortunately, they all passed at speed right under us, missing the rudder and fin keel every time. Twelve hours and 70 miles later we anchored in a bay outside Padstow, waiting for enough tide to cross the Doom Bar (we later learned that our anchorage is used for TV's Ross Poldark's swimming scenes).
Padstow was delightful in the sunshine, full of happy families fishing for crabs from along the harbour wall, a selection of very tuneful buskers playing really very well, a scene spoilt only by the odd mindless person feeding clouds of seagulls. As we arrived, we found it was the local Lifeboat Open Day with the Saltash Brass Band and lots of interesting stalls. We planned to leave the next day but found both "house batteries" were completely flat (these are the ones that power all lights and instruments when the engine isn't going), 10 years old to the day from when we bought the boat new.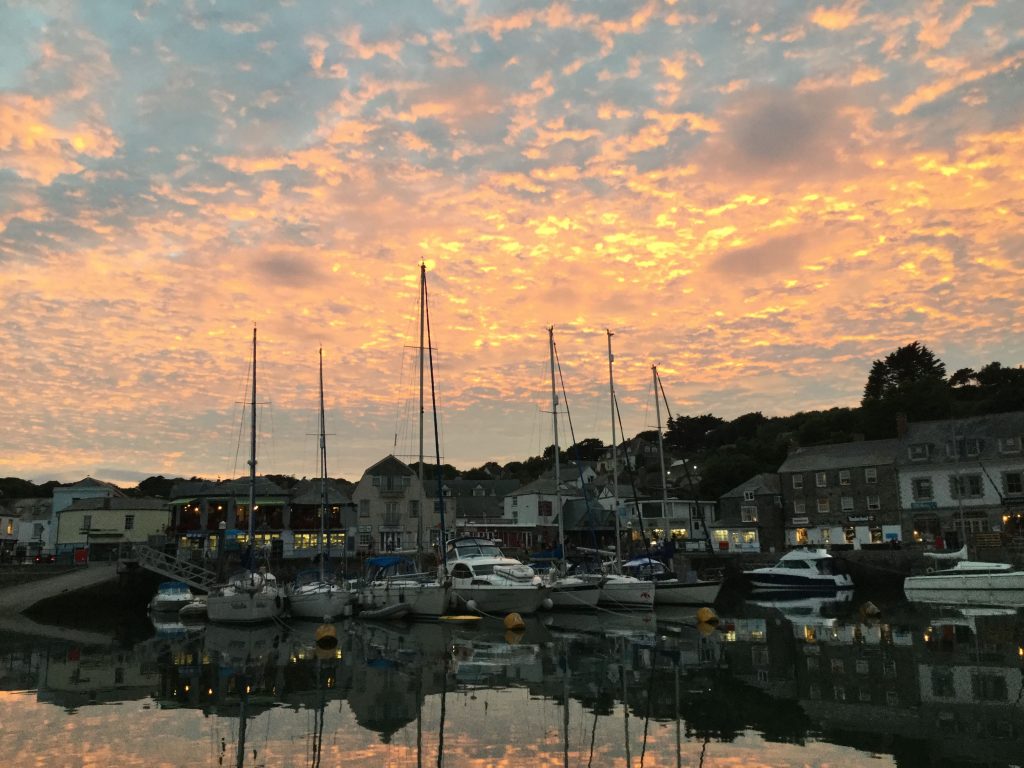 Padstow is not the sort of place to keep boat spares let alone a pair of marine quality deep cycle batteries the right size but after a lot of phone calls success, resulting in a man in a van the next day (accompanied by a huge invoice). We filled our waiting time in the town, looking around the independent small shops etc including a sailmaker, who was able to replace the broken zip on the sail bag while we waited for a token sum). There are stunning views from the walks around the River Camel and old Padstow, the narrow streets, granite cottages and beautiful gardens looking "chocolate box quality".
After 3 days in Padstow, we set off for St Ives, arriving after 33 miles at 9pm, having had a very pleasant sail. Again, a very scenic bay with thousands of fishing pots just where it is marked on the chart as an anchorage. It was a bit bumpy as we ate, then it was seriously bumpy, more like rock and roll as we slept! Luckily, we were leaving at silly o'clock for the 40 mile sail to St Mary's in the Scilly Isles.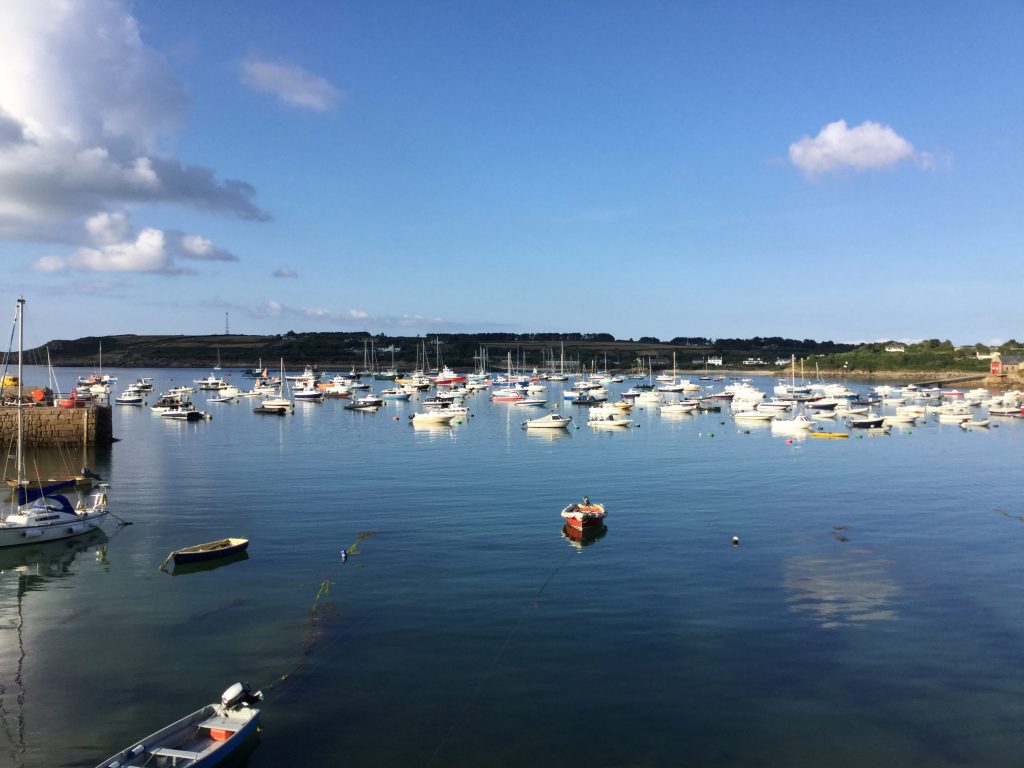 The Scilly Isles for anyone who have not been are so beautiful, not easy to sail in anything but settled weather but well worth the effort. Long white sandy beaches, small islands, and endless bays to anchor in plus millions of rocks seen and unseen! Neither of us could imagine why we hadn't been there before. We took the ferry boat over to Tresco for the day, first visiting the outstanding Abbey Gardens with amazing collections of agapanthus, ferns, palms, and cactus and other plants from all over the world growing outside in the warm moist Scilly climate. We walked almost the whole circumference of the Island, lunching on fresh caught crab at the only pub on the island with fantastic views.
Back on board later, cooking a meal was fun as the wind and waves had picked up and eating outside was definitely preferable to below. It was so unpleasant with the rocking side to side, pitching up and down we were glad to be up at 4.30am to leave for Newlyn. Not the best journey – more motor than sail in big waves – but 6 hours later, in we came to one of the two berths vacant. As storms are forecast this weekend 6 more boats arrived, fighting for the last berth, the losers rafting out alongside fishing vessels. Tonight we have rain, yes the first since the Isle of Man, and so we plan to stay here till we have fair winds for Lizard Passage and the delights of the Helston River!
______________________________________________________________________
Postcard from Gail on Wednesday 20 June
We spent a few days in Crosshaven, near Cork where Nick had been some years ago for "Cork Week". I had expected it to be rather like Cowes but in fact as you approach from the sea it looks like the River Dart at Dartmouth, but is now quite run down and quiet!
We were based at The Royal Cork Yacht Club which holds itself out as the oldest Yacht Club in the world (est 1720) which made us very welcome. There was time for some lovely walks along the cliffs before heading south west to Sherkin Island in Baltimore Harbour This was a fast and pleasant sail with one memorable incident – at first we thought there were large submerged fishing pots, but as they swam to us, we could very clearly see two large basking sharks with their huge mouths wide open (both of us then kept humming the theme tune to Jaws).
Sherkin Island is hidden away on the west side of Baltimore Harbour with just a pontoon and a convenient pub; again, some wonderful scenery. There was one other boat on the pontoon owned by two brothers who keep it nearby and who were able to give us directions for more lovely walks. Next day it was off to sail round the Fastnet Rock (just to say we had been there) and then moor at Cape Clear Island – the so called "Teardrop of Ireland" as this was the last sight of land seen from the ships taking emigrants to America. The harbour was delightful once inside, albeit a little exciting to enter with its hidden rocky entrance around a sharp corner. It had a new pontoon (also a new shower and toilet opened that day) but as all the work for the marina hadn't been finished it was free to stay! The people on the boat next to us recommended eating at the pub (only one pub, one small shop, a cafe and a restaurant where the fresh fish platter was huge and very reasonably priced. All the signs in Cape Clear were written in Erse and all the 120 people that lived there spoke it.
Leaving Cape Clear on a lovely sunny morning heading towards Glandore, when just off the Stag Rocks, we first saw a large flock of gannets diving in to a patch of sea and then right in front of us dozens of dolphins were circling and corralling a shoal of fish into a dense mass where they could feast on them – a scene straight out of Blue Planet. Then a pair of killer whales came next to us spouting water to join the party. I tried to take photographs but really I was too slow and I was happier just watching this fantastic sight.
It was cold but still dry as we slipped off the buoy at Glandore, engine off and a good F3 to F5 close reach all the way to Kinsale. The berth was at the Kinsale Yacht Club in the centre of the town so again handy for shops etc. We had an extra special night when Christopher and Beth (Christopher being Nick's godson, now working in Cork) joined us for a meal. Over Wednesday night we had Storm Hector F7 to F9, creating big waves in the harbour that were breaking over our stern; there was no way we could sleep in our usual aft cabin with the deafening noise so we moved to the forward one. This was much better until the tide changed just after midnight and allowed large waves to pitch the boat up and down like on a fairground ride – not much sleep for either of us that night!
Leaving Kinsale after lunch the following day the weather looked ok for a dash to Youghal. How wrong can one be, wind was just ok at F5-F6 but the waves were still 4m high and the course was a dead run – more a case of hanging on tightly for 8 hours but at least it didn't rain!
Slipped the buoy at 5 am the next day, heading for Kilmore Quay, the wind was F4-F6, still large waves but less than the previous day, with the sails both poled out we made excellent time only 8 hours to the harbour. Unfortunately, with a following wind and a fair tide all the way we arrived 2 hours too soon! With the wind gusting to F7 anchoring off a rocky lee shore wasn't an option – so we beam reached back and forth along the coast with less than a quarter jib (still doing 3-4 knots) for 2 hours. Once we were sure the depth over the rocks at the entrance had at least a metre more than our keel depth in we went.
Having been stormbound in Kilmore Quay for 4 days, we sailed in thick fog for almost the entire 70 mile crossing to Milford Haven taking us 12 hours, of which the first hour was spent creeping carefully out of Kilmore Quay harbour without leading marks (GPS being unreliable here). Too tired to go further after entering Milford Haven in darkness as well as very poor visibility, we picked up a buoy in Dale and pottered up to the big ship lock at the Haven today. Nicknack will stay here for a few weeks while we go home to cut the grass, open the post and catch up with family and friends.
So that's about 700 miles on the first leg of the year, so far so good!
_____________________________________________________________________
Postcard from Gail on Tuesday 5 June
We arrived in Peel, Isle the of Man just a week before the practice races. The actual TT races were due to start a week later, but the whole Island and in particular the marina was filling up with motorcycle enthusiasts. We took a bus to Douglas where I tried to remember where I stayed in on holiday 1963, and failed! We travelled on to Laxey to see the great wheel driving all the pumps for the lead mines which I did remember, and Nick found more interesting then he thought he would. Back on the bus to Peel we saw great safety barriers being erected at every bend in the road and all nearby trees together with audience seating at important places and road signs removed in preparation for the TT (Tourist Trophy). The next day we visited the St Patrick's Castle where we had a wonderful view of the tall ship Royalist coming into a berth on the harbour wall.
Leaving early, we had to motor almost all day to Howth (the "w" is silent) for nearly 70 miles. The weather was fine and day with lots of seals and gannets for company. The only incident was what felt like "soft collision" where the boat's progress was abruptly checked. There was no evidence of anything unusual on the sea and the water was far too deep for crail lines. Nick said we had probably woken up a basking shark – at least that's what I thought he said.
Howth is a great base to explore Dublin via the Dart train, the only problem being finding the station entrance which turned out to be a single anonymous door between two pubs. We took a river boat trip through Dublin to see the city from the water with a friendly and knowledgeable guide, I hadn't realised how many bridges there were over the River Liffey? Dublin itself was buzzing with the news of the Irish referendum with posters for and against everywhere.
Our next voyage was to Arklow – around 34 miles, part sail and part motoring arriving at the harbourmaster's pontoon seconds before he arrived with his receipt book asking for money. This was unusual, every other Irish harbour were happy for us to pay on leaving, some even giving us free nights. Arklow does not have a lot going for it, apart from being very close to a huge Aldi store and a small but very interesting local museum.
Timing was paramount when leaving Arklow for Kilmore Quay as the tide had to be with us in order to take the inshore passage between Carnsore Point and the Tuskar Rock lighthouse. We had a very good sail all day about 54 miles in 9 hours in winds from 10 kts to over 22 kts, the only snag being that it was dead downwind and we needed to zigzag constantly by a few degrees to avoid notorious sandbanks rejoicing in names like Blackwater and Lucifer. To reach Kilmore Quay we had to sail between the The Saltee Islands and then approach the harbour avoiding rocks on each side. Interestingly, all the pilot advice here is to ignore GPS and rely on the hand bearing compass only for the approach, the only place I have seen this?
Happily, the weather had been warming up nicely and still dry too. We had some wonderful walks along the beach and the cliff paths but were shocked at the amount of rubbish – mainly plastic – that was washed up locally. Only a little appeared to be "local rubbish"; most is from all over the world brought in by the Gulf Stream and due to the peculiar tides in SE Ireland, concentrated just there. Kilmore Quay has an RNLI Lifeboat, which was called out twice one night to recover a French boat which had misjudged the tide and ended up on the Carn Rocks. The harbourmaster was a member of the lifeboat crew and told us that they did not even say thank you afterwards but just sailed away!
Onwards to Waterford, motoring in thick fog and making the entrance at MLWS to go up the River Suir with the tide. We arrived at the harbourmaster's pontoon with the Irish Navy berthed across the river from us. Like Kilmore Quay, they have the odd way of opening marina gates, first registering your mobile phone number, then calling the number of the gate while standing next to it.
We had planned to use the free mooring buoys at Helvick but two Irish sailors in Waterford begged us not to go there in any circumstances because of "Pirates"! Allegedly, there have been a number of instances reported of locals with boats breaking into unattended vessels and stealing whatever they can get their hands on. Worse, they creep out at night and cut mooring ropes to make it look as if they frayed and then "rescue" the craft drifting on to the rocks (for a fee) Nick wanted to go anyway to spite them using our spare anchor chain as a mooring line ("let's see if the pirates remember to bring bolt cutters….") but I insisted we went on to Youghal instead.
Today we had a pleasant dead run nearly all the way to Crosshaven and we are now tied up at the Royal Cork Yacht Club for a few days.
---
Postcard from Gail on Wednesday 23 May 2018
Well we returned to a Troon to find "Nicknack" covered in green verdigris from the winter in the Scottish wind and rain. On the plus side it had been so cold that we had almost no mildew inside. Staying in an apartment near the marina we were able to have the vessel relaunched and cleaned before bending on sails etc, going back each evening to nice clean warm flat. Troon was sunny, yes sunny and dry for the first two days but bitterly cold before raining on day three. Eventually, on the 13th May we set sail for The Isle of Arran.
We arrived in Lamlash harbour where I picked up the mooring buoy at the first attempt. Shortly after we arrived another boat came to do the same manoeuvre but the chap on the deck missed the pick-up at least 8 times blaming the lady at the helm on each occasion. Noticing our ghoulish interest in the proceedings, they tried another buoy, further away from us but we could still hear the unhappy domestic exchanges until they finally tied up!
We took the dinghy over to the village but the only WiFi was in the pub, so we had to stay for a drink in order to get the weather forecast for the next day. The weather was fine but still bitterly cold. The seals didn't mind and followed us for a short time with a lone harbour porpoise. Arriving in Campbeltown we discovered a problem with the toilet, I won't go into details suffice to say we now have a fully operating loo and the bucket is no longer in use!
Leaving Scotland behind we headed for Northern Ireland, reaching Bangor Marina after a good sail on a broad reach where we where met by a shrill sound (like children blowing whistles) from around 20 breeding pairs of black guillemots which have made their home in a roped off area in the marina. Next day was a "make and mend" day, polishing the outside, cleaning under the floor, checking bilges, shopping and laundry. Belfast was only a short train ride away so on our second day there we headed off for the day, starting at the Titanic Quarter, which we found very interesting, with a cable car ride around a reconstructed shipyard within the museum to show how a large ship like the Titanic was built, including all the heat and dirt and noise that goes with it. Then on to visit the Nomadic this was the last White Star Line ship, being used to ferry passengers from shore to the Titanic. Leaving on foot we walked down to Belfast marina, this area was being prepared for the weekend's Marine Festival. Most berths were taken up with Tall Ships so we would not have been popular if we had tried to stay there! We then took a ride on a Hop on Hop off bus, interesting to see more of the city with a very knowledgable guide tactfully describing the areas involved with the worst of "The Troubles" and the amazing selection of murals still around, some from the old days and some very new.
Leaving Bangor early doors with a good forecast we set sail for Peel on the Isle of Man, however, an hour out at sea with two seals for company, a gale warning was given out a f8 due imminently. Plan B was to head for Strangford Lough (from the old Norse "strong fiord" – clearly the Vikings had a sense of humour) a shorter distance, but as it turned out a very difficult passage in a strong headwind and waves, altogether a very unpleasant time. Things did not improve on entering the Lough: the tide runs extremely fast in the tortuous, shallow/narrow entrance with occasional whirlpools and white water. We needed to zigzag our way up the narrows at speeds of 16 knots over the ground, as Nick said rather like being the ball in a pinball machine trying to avoid the pins (rocks).
We considered anchoring once we had reached the Lough itself but all the parts of the Lough that were deep enough were very exposed so we made for Portaferry marina. Entering at speed in full reverse to slow the boat in the current, Nick aimed for the first empty berth and luckily the harbour master was there came to take a line which was much appreciated. A rest day was needed so we took the ferry across to Strangford and walked to the National Trust Castle Ward, where we understand lots of Game of Thrones is filmed (not that we have seen the programme) but still bitterly cold and wet!
Leaving Strangford Lough was very exciting if not scary as the tide rushes out between the narrows to meet the sea at a point of white water that looks and feels like the Portland Race on a bad day, enormous waves toss the boat and you don't appear to move forward then it's all over – relax! The forecast was no wind, but in fact we had a wonderful sail across to Peel, Isle of Man. However, we arrived too soon for the sill and bridge opening. The wind picked up steadily wile we bounced on a waiting buoy for a good hour before we were able to enter the harbour. We are here for a few days sightseeing, my last visit to the Isle of Man was over 50 years ago and Nick has never been – so lots to explore!
Happily, we have only had a few wet days so far, but instead we have had bitterly cold north winds even when it's lovely and sunny!
——————————————————————————————————————-
Postcard from Gail on Friday 1 September
The best laid plans of mice and men – as a local might have put it – rendered our intentions of going to Skye, Staffa and Colonsay as impossible due to gale force winds, driving rain and poor visibility most days with weather forecasts changing from one extreme to the other at less than 24 hours notice.
We retraced some of our steps southwards from Tobermory down the sound of Mull to Oban Marina which is actually on the Isle of Kerrera (with a courtesy ferry to Oban pier). On leaving Tobermory we had one dolphin for company in the rain. Oban had a supermarket to top up stores and a small local museum and a few shops. I thought there would be more to see/do but it was full of walkers and walking shops.
The Isle of Kerrera is very quiet, about 45 people live there. It had a walk around the island and one across, and we did a bit of both, Nick telling me it was a short cut to the marina. We walked – well, bog trotted – around, through and in a bog (about an hour) and then had to wash our trousers, shoes and socks. The upside of this was due to the wet weather we did not get bitten by any midges as apparently it was too wet even for them!
On to Ardfern, a lovely spot at the top of a Loch. To get there we sailed down the Sound of Luing, generally at well over 12 knots over the ground with an extremely big spring tide under us, generally in a SW direction but occasionally in ever decreasing circles when the helms-person didn't spot the vicious whirlpools in time! Two particular interesting moments: first was me telling Nick that on the charts we were sailing over a submarine exercise only to see "black things" in the water! On a second glance it was not a sub but a pod of dolphins (thank goodness). The second was a beautiful blue Rustler 44 yacht flying a white ensign came in! Nick was going to take a line for them – but no need, as from nowhere a waiting team arrived. Later, on the way to shower block, I met the lady owner and her husband and said hello – as you do! (For the avoidance of doubt it was me on the way to the shower block not HRH.) They left after breakfast, we assumed to go to meet the family at Balmoral?
Plan A was to go west through the Corryveckan (aka the Witches Cauldron) when a mile away at the sight of a standing wave nearly 3m high and white water beyond (it was still a spring tide) we took the sensible route – reverted to Plan B! Beating to windward down The Sound of Jura was almost as exciting, but safer as far as Craighouse, the principal settlement on the Isle of Jura. We picked up a bouy in the bay looking over to the distillery. That was the easy part! The tidal waves in the bay rocked the boat from side to side as our head pitched and pointed to windward. I just took to my bed with a pill until the wind and waves dropped enough to cook dinner. No telephone, wifi or radio signal available till next day's potter over in the tender to the Jura Hotel … coffee, shower, lobster lunch washed down with a wee dram from the next door's distillery. If only it would stop raining for a while!
After a couple of days in Jura we sailed and then motored to Port Ellen on Islay. I don't remember much of the next day as we visited 3 more distilleries in quick succession on a 6 mile walk. It only rained in the evening that day which made a lovely change.
We left Port Ellen in the usual F6 squalls, driving rain and near zero visibility, encountering the Calmac car ferry which appeared suddenly in front of us out of the gloom in the narrow approach channel. We had an otherwise fast, uneventful crossing to Ballycastle, arriving in time for the "lively" Auld Lammas Fair. Security was high – and that was before we reached the market stalls selling body armour and toy Armalites! The locals were very friendly and Nick assured me that the Guinness was the best he has had for some time. We had a day out with a rambler bus ticket visiting the Giant's Causeway and the Rope Bridge with a walk along Whitepark beach as the Atlantic rollers crashed around us.
We left Ballycastle in sunshine, yes I did say sunshine and what's more it stayed dry all the way around the Mull of Kintyre to Campbeltown. Our first voyage without full follies since June! It was so good to have visibility and be able to see the numerous islands, most covered in purple heather and green grass which made them look like they were covered in velvet.
Tomorrow we head up Loch fine to Tarbert or Portvadie – will it be dry and bright, we will have to wait and see?
Postcard from Gail on Saturday 9 September

Campbeltown was interesting – it was the first time we had to raft up alongside another boat. The harbour master was surprised that so many boats had arrived that day but given the wind strength we were not! Next day, on visiting the RNLI shop as we always seem to do, we were talking to the chap – who said "have you been on one of our lifeboats?" No we hadn't, so he gave us a personal tour of the Tyne class lifeboat – it transpired that he was the head mechanic, having had a background in engineering.
We actually had a good a good sail to Campbeltown with dolphins around the boat. We didn't see them until they came up close and started to breathe noisily and, hearing them, you could look in the right direction to find them. This was also our first day of sunshine since we returned to Scotland on 7 August. Our next trip was to Tarbert, our second day in sunshine. Friends had recently visited there and recommended the scallops sold live from holding tanks, but we arrived late on Saturday and the shop was closed until Monday by which time we had already left so we didn't get to taste them.
Next we sailed on to Rothesay on the Isle of Bute. Nick had last been there in 1967 on the Dartmouth Training Squadron frigate HMS Torquay. We took a bus trip around the island which was made all the more interesting by the local bus driver's commentary. The harbour showers and toilets were fascinating, being built about 140 years ago with polished copper pipe work and amazing appliances – nuff said! We wanted to go on to Arran but the thought of another stormy night on a buoy didn't appeal so we moved marinas to Ardrossan for a night.
Our last stop was Troon: the tail end of another storm meant a very early start to do the last 9 miles which seemed like a lifetime, with the wind F7-8, enormous waves breaking on the deck and, of course, heavy rain. The nice bit was entering the harbour to a welcoming committee of dozens of eider ducks sheltering from the storm. We are now packing the boat up for over-wintering here.
Over the 37 days we have been in Scotland we have enjoyed only 3 without rain! (The last fine day was timely for packing up sails etc.) The rest of the time we have found ourselves either sheltering or sailing in F5-F7 winds (regardless of forecast), driving rain and near zero visibility to and from unfamiliar ports among "iron-bound" coasts.
Although there were moments, when the rain stopped and the clouds broke, when we could view the amazing scenery (with and without rainbows), the last month has been a struggle to keep warm and dry, especially to deal with wet sailing gear every time we stopped. Consequently, we have reluctantly accepted – with no change in the 10 day forecast – to curtail this part of our trip and return home.
Looking forward to catching up with family and friends very soon. We will return here to Troon in early May 2018 for the next part of our adventure…..
---
---
Postcard from Gail on Monday 21 August

Well here we are back in Inverness, Scotland, having flown from Gatwick on the 7 August. It was good to be back on Nicknack: all was fine all be it a little dusty!
We left Inverness marina and headed for Clachnaharry sea lock to start the journey along the Caledonian Canal. We stayed the overnight in Seaport Marina (near the sea lock) to restock the store cupboard at the nearby Co-op. Next day more locks and swing bridges then before we managed a short sail on Loch Ness in a fickle wind from every direction. No sign of any monster unfortunately although the depth sounder showed very shallow water from time to time in the middle of the Loch: could this have been Nessie swimming directly under our keel?
Fort Augustus was a welcome overnight stop and pick up email with wifi in the pub! Next day was our second "flight" of locks with our routine well established and help from lock keepers calling ahead to the next lock or swing bridge to let them know we are on are way. We were expecting high winds later but they came much earlier than forecast while we were still on Loch Oich (the highest point on the Canal) so we made for on a pontoon at Laggan. This turned out to be a bad move, it was an exciting berthing with F8 winds beam on in a short steep chop and driving rain. I leaped off the boat to tie up on a finger pontoon and was so pleased to see 2 men from the local boat hire company standing by to help any returning cruiser. I hoped they would take a line but no, they didn't, afterwards saying that "you looked like you knew what you were doing so we left you to to it"? That night was just like sleeping in a washing machine with not much sleep, and it was darkest place on earth, no lights no moon, no stars, nothing.
We had to move early the next day as the marina was expecting many more cruisers returning at the end of the hire period. On to Loch Lochy, the waves (yes huge waves on a loch,) and with the wind F8 from dead ahead again and seriously heavy rain, it took us three and half hours do 8 miles. By the time we reached Neptune's Staircase we noticed a little warning light on the engine panel showing low oil pressure despite changing oil and filter at Inverness.
On arrival at top of the Staircase (a flight of 9 locks and 2 swing bridges) this did not look good. We called a marine engineer at the sea Loch at Corpach Basin; he checked everything over and said it was ok to continue – probably an electrical fault we could defer repair until haul out.
While waiting at Corpach we noticed the West Highland Line next to our berth was running the "Hogwarts Express" train several times a day. Each time the rain stopped and the clouds cleared for a few minutes we also had magnificent views of Ben Nevis.
We have been so impressed with the friendly and helpful lock keepers, the magnificent engineering and working of the locks, albeit the Canal was relatively uncrowned (August is apparently a low season). Thomas Telford certainly knew what he was doing when he designed it with 29 locks and 10 swing bridges in 60 miles. The scenery has been wonderful the different greens of the trees the pink of the rosebay willow herb along the Canal, the magnificent mountains when the clouds lift; not much wildlife but lots of ducks!
On Monday we finally exited the Caledonian Canal and motored, then sailed in continuous rain down Loch Linnehe and up through the Sound of Mull to a very pleasant little harbour at Loch Aline where we spent the next two days stormbound again. It has now rained every day since our return to Scotland, 8 days now! The only upside of the continuous rain is that the "flying teeth" have been kept at bay.
Another wet and stormy day – so we sailed to Tobermory arriving early afternoon, then joy of joy the sun came out, do did all our wet clothes including jackets, trousers and boots we had them hanging from every available part of the boat. Tobermory is a real "chocolate box" picture of a seaside village, lots of lovely cafes, restaurants, gift shops and the local people are so friendly. But guess what? By 9pm the rain was back and another mega storm overnight. We plan to stay here for a while few days before the big decision – do we continue north or give in to the weather and head around Mull and then south?
---
Postcard from Gail – Tuesday 18 July
We left the boat in Inverness marina for July, as we had a family wedding, grandchild's birthday party plus a selection of visitors, some from Switzerland to come home for. We plan to fly back to Inverness on the 7 August and we have already booked the first inbound lock on the Caledonian Canal on the 8th. The idea – weather permitting – is to sail around the Western Isles, and we are just starting to do a little planning now – looking at Oban, Skye, Mallaig, Mull, Jura etc maybe the Crinan Canal and Islay.
It has been odd to be home in a house with a garden to look after but a joy to just put washing in a washing machine and not have to worry about the time it takes. We both miss the boat and are looking forward to part 2 of our Summer Odyssey.
We had a day sail to the Isle of Wight with Mike Andrews on his boat. Again, it was nice to go out from a mooring that we knew; all the ones we have entered and left since Eastbourne have been a new and sometimes exciting adventure.
---
Postcard from Gail on Tuesday 20 June
We entered Eyemouth with seals swimming around the boat, popping up in front of pretending to be fishing pots, puffins diving in close to us with their orange beaks: they are not very graceful when landing and taking off.
Eyemouth harbour is sheltered most of the time, but on the night of the "big storm" I did not agree with this – Nick of course slept through the gusts of 25 – 28 knots with waves in the inner harbour slapping against the hull. In the morning the water around us had turned dark brown this coming down into the harbour from the River Eye. The town itself is a curious place with local pastimes advertised outside the town hall as smuggling and witch-burning.
We took the bus south 6 miles to Berwick – due to the rain and fog we could have been going anywhere? On arrival a window in the weather, so we walked around the old Elizabethan Walls to the Scottish Borderers Museum- very interesting, more so to Nick than me.
We left Eyemouth at 4.15am to sail north to Arbroath, light headwinds followed eventually by no wind then high winds and rain! We sailed past the Bell Rock lighthouse designed by Robert Stevenson and erected in just 4 years despite being only able to work in the summer months and between tides. We doubt if that programme could be bettered today. The entrance to Arbroath harbour is narrow but the whole area is scattered with fishing pots, some marked ok, most are just small balls/litre milk bottles making the entry very difficult in poor light. It was difficult to find room to take the sails down, making sure that the propellor was clear of cheap and nasty nylon floating lines. The harbourmaster was the first to point out that local crabbing hobbyists were out of control. However, we were welcomed by the smell of the Arbroath Smokies being smoked, but have failed to buy any as they were not ready by the time we left!
Arbroath was wet and very cold, but a highlight was finding Wetherspoon's, it was a welcome place to eat with families, had clean warm loos, and the only wifi in town. We listened for the shipping forecast at 0519 but the BBC arbitrarily cancelled it without warning in favour of Jim Naughtie continuing to prattle on about the minutiae of the election, a case of the metropolitan elite ignoring the safety of seafarers.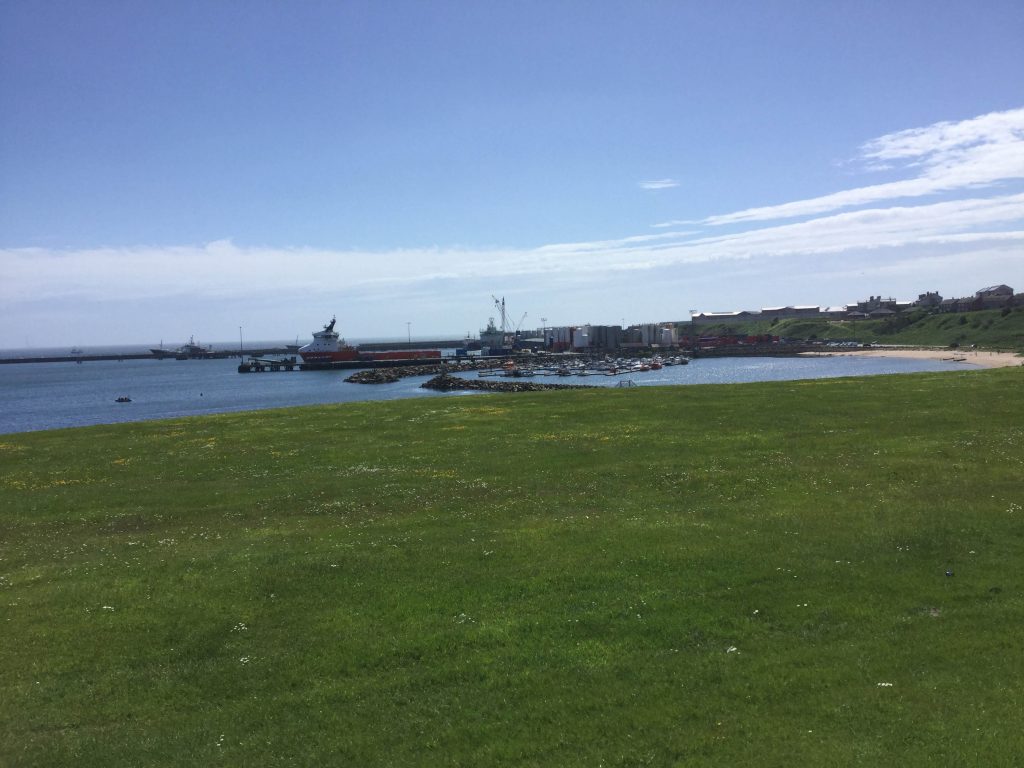 After Arbroath we pressed on to Peterhead arriving just after dark. The harbour control gave us permission to cross the harbour as quickly as possible (to avoid commercial traffic) to the marina then complained when we slowed down in the shallows to put out warps and fenders. The marina itself is thoughtfully positioned in a corner of the harbour next to a big ship fuel berth and a prison. We were storm bound there for a few days discovering why it is known as "The Blue Toon" – it's because it's bitterly cold, this is midsummer! Even the tanning parlours advertised themselves as the only means locally to "top up your vitamin D"! We also discovered there are no restaurants in Peterhead, the locals preferring take-outs at all times. To get out of the constant rain we visited Peterhead Prison, part of which is now a museum including scenes of the rooftop riots in the 1980s which required the SAS to stop.
We finally left Peterhead, rounding Rattray Head and pushing on to Whitehills among the seals and puffins again. We even saw a pair of whales half a mile away, looking like two large smooth black rocks moving quickly on the surface with a visible bow wave. Whitehills is a charming little harbour, considerably warmer than Peterhead but just as wet! We had Ellen McCarthur's yacht Moonspray next to us, crewed by young people recovering from cancer, sailing around Britain from Largs in a clockwise direction.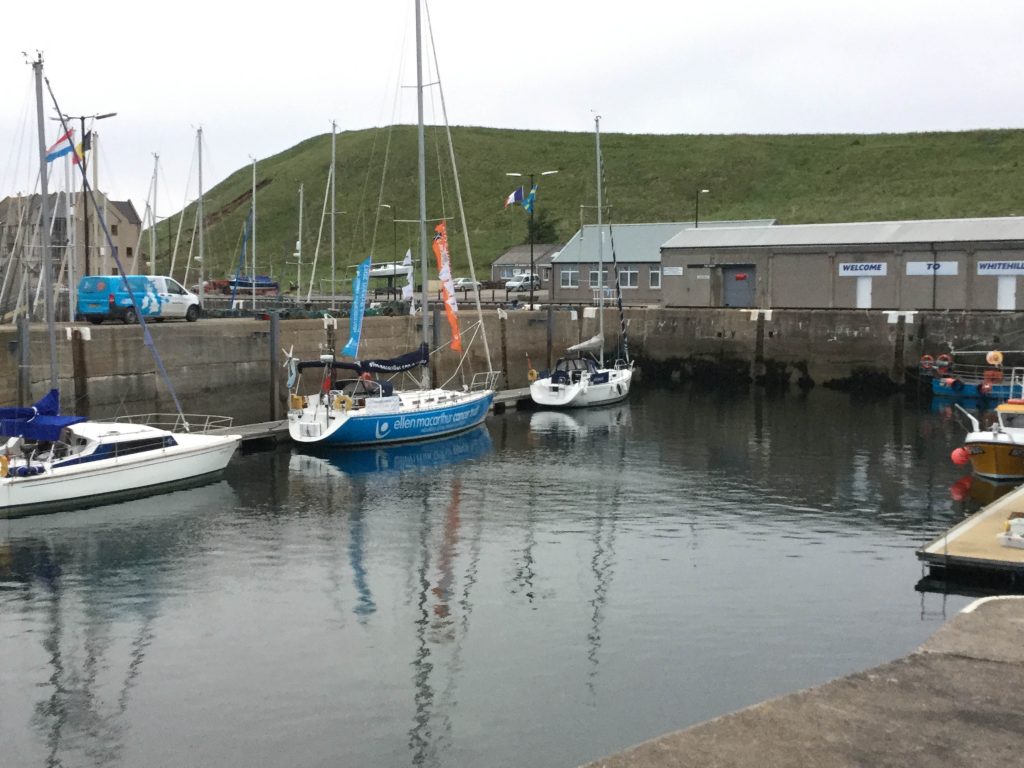 With a window in the weather we sailed 25 miles west to Lossiemouth where we spent a few days being buzzed by the Typhoons from the RAF station. On the way we saw a pod of dolphins as well as all the seals which by now we are getting to feel quite blasé about. To get out of the rain we took the bus to Elgin to stock up at Tesco, the only large store for miles.
We also visited the local community/fishing museum which had records of the old RN base, HMS Fulmar where Nick was pleased to see a mention of his cousin (who was based there) bombing the Torrey Canyon in 1967. Coincidentally, a resident of Elgin has an old Buccaneer (1960's low level bomber) parked on his garage forecourt, now a local landmark.
We left Lossiemouth for our last sail – to Inverness – in a F5 headwind so it took most of the day to get there. We were disappointed not to see the well known pod of bottle nosed dolphins in the Chamonry Narrows, as were the hundreds of tourists in boats and on the beach also looking out for them. There were however dozens of seals basking on the sand as we went by.
The tides are a mystery in Scotland. We have a tidal atlas which shows which way the the stream is running at whatever time, relative to High Water Dover. However, it is consistently 1-2 hours adrift – and yes, we have made the appropriate adjustment for BST!
The weather all the time we have been in Scotland has not been good. Although we have had the odd sunny interval, it has rained every day and temperatures have varied between 11 and 16 degrees C. Ironically, we keep hearing on the weather forecasts that the South is having a heatwave and the Hive system in our house emails us each day to complain that the house is far too hot (with the heating turned off, of course). We have about a week here now before we fly home for July so plan to get out and about – just like being on holiday.
We have been amazed at the lack of darkness up here. It is still half light at nearly midnight and dawn is less than 4 hours later.
820 miles and still friends, still talking, still married!
---
Postcard from Gail on Sunday 4 June
We left Lowestoft Royal Norfolk and Suffolk Yacht Club with John on board for the long leg up to Grimsby at 6.15 am. The weather was cold and we had wind for the first couple of hours then had to motor but had the company of seals while watching out for wind farms. The wind came back and a lovely sail along the coast although we could not see much of it due to poor visibility. The pilotage up the River Humber into Grimsby in the dark after 18 hours sailing is difficult. The coast (some 6 miles ahead) is just a mass of lights with a lot of shipping including large tankers heading for the same channel as ourselves. Nick asked John and I to watch for the red lights of two buoys on the starboard side close together but we never saw them. However, the floating fuel line with its pretty orange lights we did see and kept well clear of!
We arrived at the large ship lock 15 minutes too soon for sufficient depth of water. Spotting the correct lock entrance (there were several) was not easy in the Stygian gloom so we pottered around in shallow water until the lock keeper called to say "you can come in now". The lock is enormous, very deep and pitch black with solid stone slime covered walls but the lock keeper was very helpful in guiding us in and passing down lines. Grimsby itself is a rather sad place, the high street is full of closed down shops, betting shops and pawnbrokers (even UKIP's office was closed!) However, the Fishing Heritage Centre was a great place to visit with the "Ross Tiger" trawler alongside with its last skipper still on board to give us a very personal tour of the vessel and tell us tales of the Cod Wars. The old fish docks which once were full of trawlers are all empty albeit part now forms a marina. The buildings around are empty and dilapidated too but still manage to have a smell of fish lingering about them – even now!
On to Whitby next, early start and 14 hours later arrived at the entrance to the harbour, alas about half an hour too late to enter on a rapidly falling spring tide. We had about 4 hours to kill, so ended up anchoring in Sands End Bay for a "wee dram" and a rest! The next morning – well 5am we motored into Whitby Harbour, which was such a great feeling for me on my birthday to come back to a place that held so many childhood memories.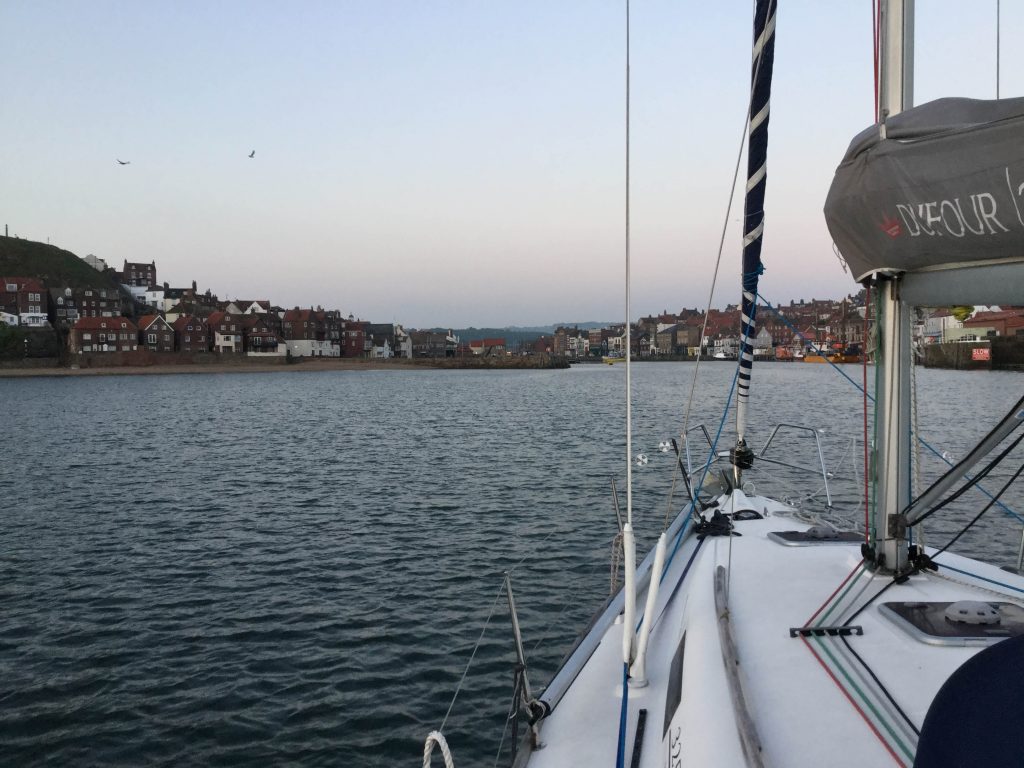 Shan, John's wife came to collect him with her personal "sat nav" Janet on Friday. They came with all sorts of goodies including a birthday cake with lots of candles on it! We really enjoyed having John on board; he was a great help sailing the long legs and very good company, keeping Nick calm at the more stressful times. Hopefully, they both will join us again in Scotland and maybe Stuart and Eleanor will see us at some point too?
Yesterday, we arrived here in Hartlepool, a very interesting sail, not what the weather man said but a f6 with enormous waves. We had such a fast trip we had to pick up a buoy outside the harbour to wait for water and the lock. Today we went to visit the Trincomalee, which used to be called the T S Foudroyant, and was berthed in Portsmouth harbour in the 1960's Nick had a week learning to sail when was just 10 years old. Those were the days of course when you could put a couple of dozen 10-12 year olds out in dinghies in Portsmouth Harbour and tell them simply to try and avoid the warships, ferries, commercial traffic and dockyard workboats. Gradually, the safety police made life more difficult and sailing courses for kids closed in the 1970s. Now it is part of the National Museum of The Royal Navy, which was fantastic, the ship was completely reconstructed and refurbished, afloat, but sitting in "dockyard street" with each shop telling the story of the dock side trades.
Our next stop was Blyth where there is a small marina just inside the harbour entrance. The adjoining club house is the Royal Northumberland Yacht Club, being the old Seven Stones lightship – the one that some of old enough will remember as the lightship that the Torrey Canyon tanker failed to see in 1967 causing a major ecological disaster. We meet up with other sailors who are also sailing around the UK and had a good evening in the Club's lightship bar.
Leaving Blyth we set off for Amble, a lovely marina with wonderful showers and a bath in the ladies! We walked along the river path, to Warkworth Castle well worth a visit, then on to lunch in a local pub where the night before was the local Rotary meeting – missed Rotary by a day again!
Today we left Amble for Eyemouth, again the weather forecaster said it would be a nice 4-5 southwest but it was in fact 2-7 north, north west. Heavy rain,hail, sun, wind in squalls of 28 knots then no wind and everything in between! On entering the harbour we were meet by seals swimming along side the boat to our berth.
576 miles from home port now, still friends, still talking to each other?
---
Update from Gail on Saturday 20 May
We left Port Solent on 11 May for Chichester to take part in the "Kids Out" day sailing on the 12th with children with special needs. We had two boys – great fun, but the most challenging of all the children we have taken out over the years. One would not get on the boat! Eventually we persuaded him on and guess what – he didn't want to get off at the end of the sail. The other one got back on the mini bus and asked if he could come again tomorrow – which was nice to know he wanted to!
We left the mooring buoy at 3.45 am ( sorry we woke you up Hugh and Marian), the rain held off for half an hour and then it poured down for the next 2 hours. Originally we were heading in the direction of Brighton, but the wind was great so we kept on to Eastbourne. Had a couple of nights there and caught up with family and friends for lunch and tea.
Another early start in the rain for Ramsgate. Good wind till the entrance to Dover and then the wind dropped to nothing with a ferry coming out and a fast moving ship coming in. It was the engine from then on into Ramsgate where the wind picked up just in time for berthing. We had a few days looking at the sights of Ramsgate, a visit to the tunnels that were used in the war as homes for the local people as well as an air raid shelter. I am not at my best walking with torches for miles under the streets of Ramsgate – but the two guides were very good, one a local chap who grew up with the stories of life in the tunnel and a young lad doing his Duke of Edinburgh volunteering.
Another visit to the hotel we stayed at in January, but only for a splendid lunch! Off again in the rain, early – 6 am for Shotley marina, just next to Felixstowe. A good sail mainly, but we played the hedgehog crossing the road again with container ships and bulk carriers going into and coming out of London. We have been updating our charts as we go to reflect all the new wind farms which keep popping up on our way. One sad but interesting sight was a dead whale drifting near to the main channel outside Felixtowe – a boat just ahead of us called the Dover coastguard to report the sighting.
Shotley marina is between the river Stour and the river Orwell, and was part of the old Ganges Naval Base to train "boys" to become sailors. Some may have heard of the "Button Boys" who all had to climb up to the top of a mast and stand on the very top in a display – no health and safety then? We went for a walk along the River Orwell and in a local churchyard came across about 100 graves of boy sailors who died in the 1918 flu epidemic – poignantly more of those than in the local war cemetery.
Today we left Shotley in dry weather and had sunshine till we berthed, that was the good part. The wind was from behind and the waves huge, making the boat roll – definitely not a sail to be repeated – although it was fast and we tied up in quite an exposed F6. Happily, the rain only then started at Lowestoft. We plan to stay here a couple of nights to pick up John (Bennett), an additional crew member who will be sailing with us on Monday when we start the long sail to Grimsby, weather permitting,
Well that's the first week, 250ish miles sailed and we are still friends?
Save
Save
Save
Save
Save
Save
Save
Save
Save
Save
Save