January 2020 is already behind us and we are thinking ahead to where next for Musyk. It is also a time to look back at the end of our sailing season last year.
Our departure from Dartmouth in late August was memorable. Rather than trail across Lyme Bay and round Portland Bill we thought it would be more fun to head home via Guernsey and Cherbourg. So an early rise and confrontation with thick fog, partly expected and forecast as land fog. OK fine – it will burn off quickly in the forecast sunshine. Indeed, as we readied Musyk for the passage, visibility improved so that we could see the other side of the harbour. We motored slowly out of the entrance, noting several vessels outside the harbour entrance on AIS. Emerging from the fog we were startled to come across what looked like the bow of a cruise ship anchored in front of us.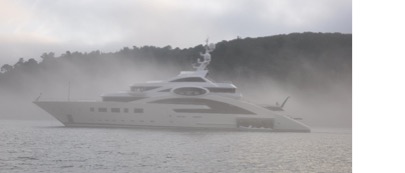 On closer inspection we discovered it was an 85m superyacht called Ace, complete with a luxurious spa including hammam. On AIS we noted the next vessel we would encounter was called Garcon. And then we started laughing as we realised that Garcon was the "tender" to Ace, a massive 67 metre support vessel including helicopter, officially named "Garcon4Ace".

Owned by a Russian oligarch, it was allegedly available for charter for 12 guests at €1,000,000 a week! And now hot off the press we can report that Ace and Garcon are up for sale!
We were disappointed to enter another fog bank shortly after leaving Dartmouth which kept us busy looking at the radar and AIS for several hours. Finally the fog cleared away, the wind picked up and we had a great sail to St Peter Port. The visitors' pontoons in the outer harbour were crowded but we weren't staying long enough to warrant a stay in the inner harbour. The benefit of having some flexibility on our departure date was that we waited long enough for the August bank holiday sailors to clear out, leaving us with a relatively easy exit.
Yet more fog in Guernsey gave us time to make use of the excellent launderette facilities at the marina and to use the local buses to tour round the island – good value at £2 a trip.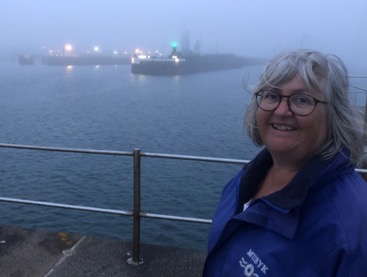 Our passage through the Alderney Race and round to Cherbourg was uneventful.Being early September, we had our choice of pontoons. Our favourite restaurant Le Vauban was closed for its summer hols so we tried Michelin starred Le Pily instead and were very impressed. It was a wise choice to go for the 3 course menu which came with so many additional bits. We spotted diners on the 5 and 7 course menus who were definitely struggling!
Our return across Channel was also uneventful until we got to The Bridge in a lumpy sea at the end of the ebb (we crossed too fast again!) and were slightly surprised by a coaster coming in behind us, forcing us to clear out of its way.
A short stay in Lymington was followed by a peaceful few days in Newtown Creek with a choice of mooring buoys. We enjoyed a dinghy trip taking the tide up to Shalfleet and a walk to the newly reopened New Inn with excellent seasonal menus. On the way back we explored the Newtown River to westward. At the top of the tide we went a long way up, and mid-week in early September there was not a soul to be seen.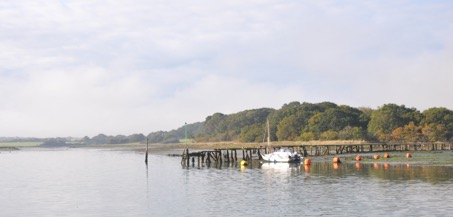 We then moored in Premier Marina, Gosport and found them very helpful and obliging. Their special deal for mooring was very flexible and good value. Not so good was the occasional swell inside the breakwater or the lack of water at LW springs which reduced access to the pontoons.
Then in October onwards to Premier Marina, Chichester – covered by the special deal. It was an excellent place to take absolutely everything off Musyk ready for a deep clean. The car could be parked at the top of the gangway. The restaurant and bar at Chichester Yacht Club were very welcoming and excellent value.
Finally on a spring tide we made our way up to Dell Quay, relieved that the depth was never too challenging compared to a previous experience with out Sadler 29 many years ago. Musyk has been well looked after and looks smart with her new Coppercoat antifouling. This yard took care to do the whole of the underside of the keel, unlike the previous boatyard. Let's hope this antifouling lasts as long as the previous one – not bad at 14 years!
So what next? We were pleased not to have to dash across the Channel in January to secure our VAT status in Europe. The RYA and the Cruising Association have been diligent in interpreting the convoluted regulations and keeping members in touch with likely changes following Brexit. We intend to moor Musyk in France at the end of the season so that on 31 December 2020 she retains her VAT paid status in Europe and avoids the risk of having to pay VAT again if we want to keep her in Europe for more than 18 months.
We are making plans to cruise Southern Brittany, a new cruising ground for us and looking forward to enjoying more splendid scenery, good food and good company