After a pleasant evening unwinding in Hamble we knew that Saturday was going to need an early start because on Degree of Latitude we had no sails. Given that we were supposed to be racing the next day that was a bit of a challenge.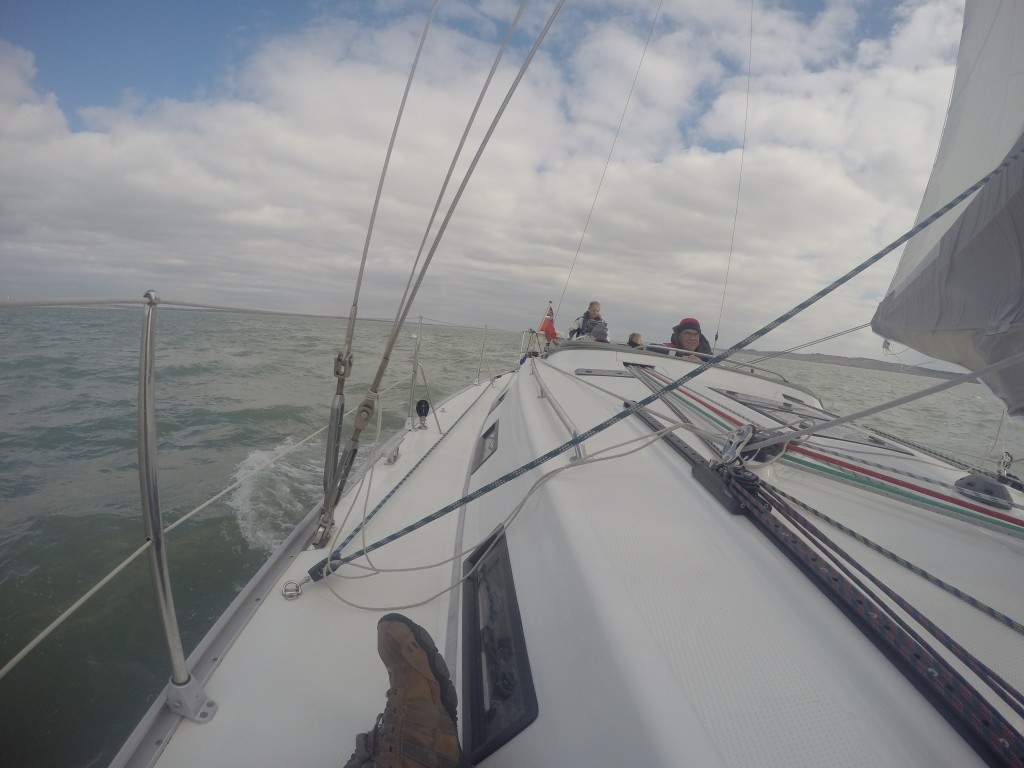 There were 21 of us in 4 boats taking part.
* Degree of Latitude – Oyster 45
* eVent – Dufour 40
* Skittles – Bavaria 40 Sport
* Stilleto – Bavaria 33
Saturday morning was very cold. JR went off to Tesco for weekend provisions whilst Mark and Richard tried to make sense of the in-mast main and succeeded in hoisting and (almost) furling. Meanwhile, the ladies surfaced and yes, the rumours are true, Sharon did cook breakfast in her onesie!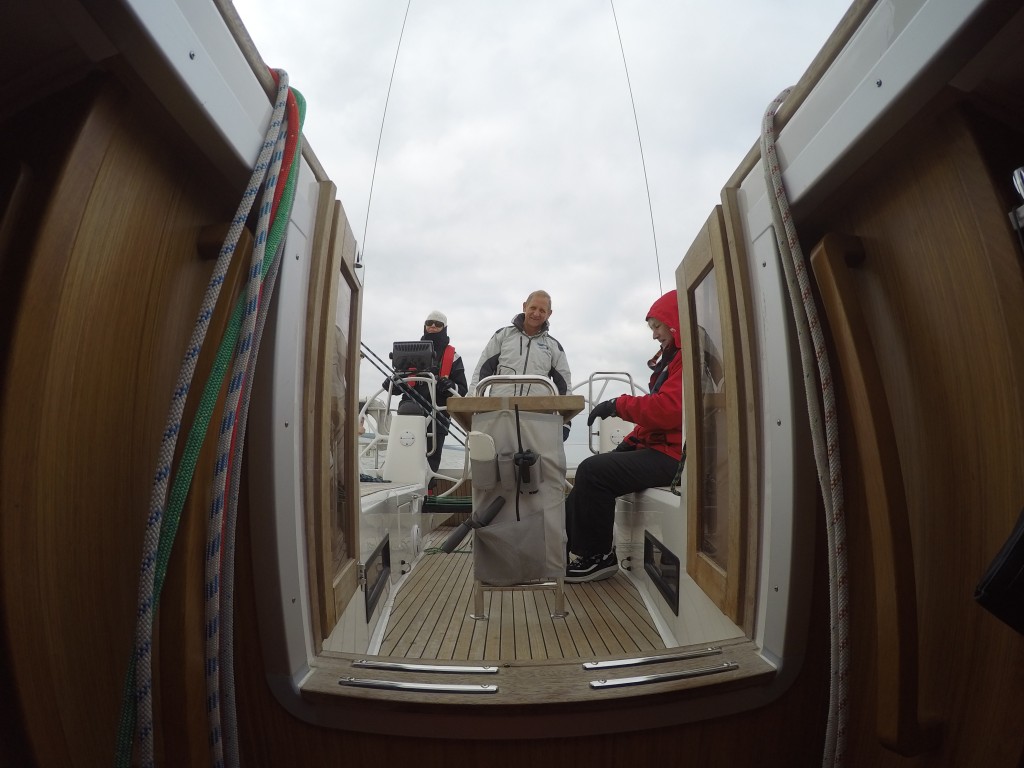 Off to the start by Hill Head and this is where the apology begins. For reasons best left untold, after getting out into Southampton Water we had to turn back to the Hamble Point marina. We knew the other 3 boats and crew would be waiting for the DoL Committee Boat so we tried as best we could to make up time but 10.30 was going to be too early to get in position.
After some confusion about gale warnings we managed to get a start at 10.40 and Stiletto shot across the line soon followed by eVent. A few minutes later Skittles followed. On DoL we had to weigh anchor and get the genoa hoisted before we were going anywhere. While the 3 boats in front seemed to take a northerly route around Bramble we headed south – straight for the strong tidal flow around Cowes.
This was the weekend when, because of the syzygy effect (dire warnings in the press of supertide destruction). If the earth, moon and sun are all in a line the gravitational pull is stronger and we can get more powerful tides than usual – and we got the eclipse.
The wind was F4/5 NE – perfect conditions for DoL under full sail. And there was sunshine. We were over 12 kts SOG at Hurst Point.
eVent was nowhere in sight but as we crossed Christchurch Bay we hauled in Stiletto and could see Skittles to the South. The finish line was supposed to be the transit between buoys 3 and 4 to the east which meant keeping to the western boat channel into Poole but I think some boats forgot that in the excitement!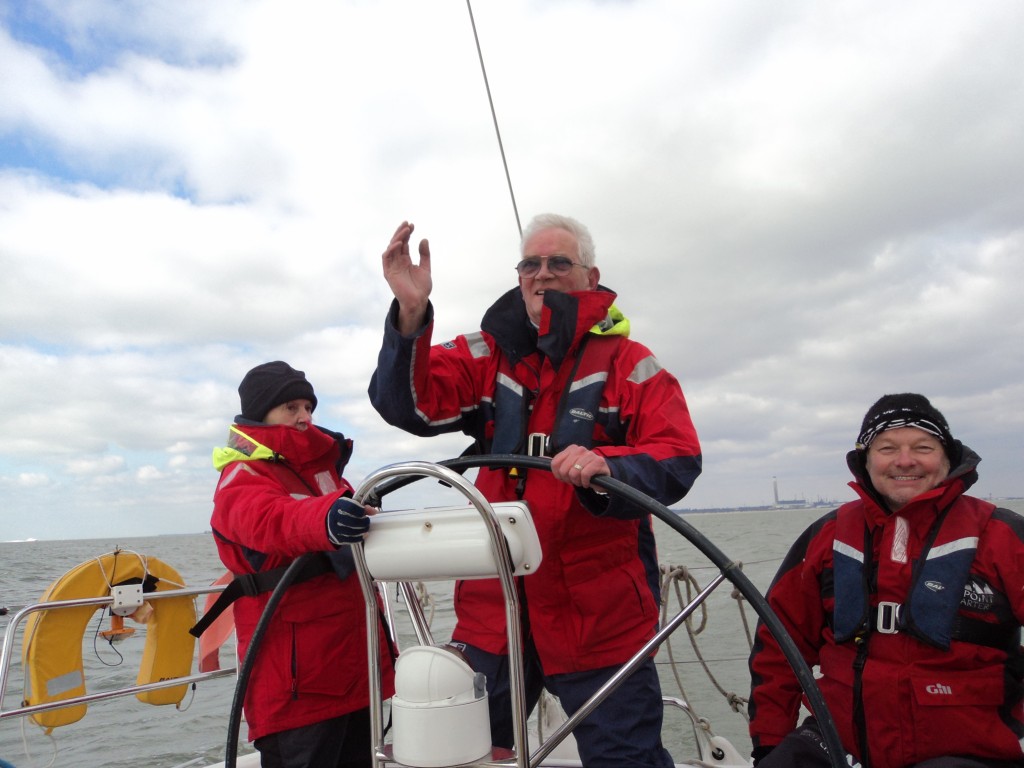 And so to Poole Town Quay where we found eVent already berthed. Commodores cocktails saw everyone onboard DoL with some experimental cocktails. Then a wonderful meal at Banana Wharf followed by impromptu street and on-board entertainment from Nick Van Eede.
A late night seems to always be followed by an early morning start and Sunday was no exception. We had to catch the flood tide to get us past Hurst before lunch. On DoL we left early but we knew the other 3 boats were not far behind. We arrived at a quiet Yarmouth at 11.30 and waited and waited and opened another bottle…. and eventually the others arrived.
A pleasant afternoon strolling around Yarmouth and enjoyed a civilised coffee at The George before those of us on DoL had to go East again. The remaining 3 boats had a good evening on the IoW and sail back on Monday – much more civilised times.
Many thanks to the boat owners/skippers and Fran for organising restaurants. We have been lucky with the weather for 2 consecutive years for the Poole Rally – long may it continue!